Rohingya armed gang chief among 6 arrested in Teknaf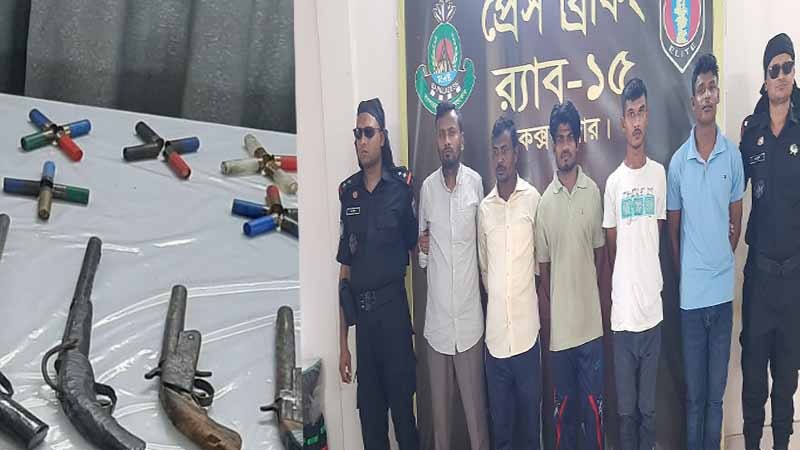 TEKNAF, HNILA CORRESPONDENTS
The RAB-15 has arrested six people, including the leader of Saleh Bahini, Hafizur Rahman, also known as Chhole Uddin, who is considered to be one of the masterminds behind kidnapping and robbery in Teknaf's remote hills of Cox's Bazar. A significant amount of arms and ammunition was also confiscated.
Cox's Bazar RAB-15 Additional Superintendent of Police and Senior Assistant Director (Law and Media), Abu Salam Chowdhury, confirmed this development.
Chhole Uddin and his accomplices Nurul Alam (aka Nuru) (40), Akhtar Kamal (aka Sohail) (37), Nurul Alam (aka Lalu) (24), Harunur Rashid (23), and Riaz Uddin (aka Bappi) (17), were apprehended by RAB-15 members during an operation in Baharchhara hilly area of Teknaf on Friday night (May 5), he said.
During the operation, the elite force recovered one foreign pistol, three SBBL rifles, two one-shooter guns, six country-made guns, five rounds of pistol bullets, 17 rounds of fresh cartridges, four rounds of empty cartridges, two sharp knives, six country-made guns, and seven mobile phones, according to the RAB official.
Chowdhury further added that the necessary legal measures had been taken against the detained suspects, and the process of handing them over to the relevant police station was in progress. Additionally, the RAB's operation is ongoing with the objective of arresting other individuals related to Saleh Uddin alias Chhole Dacoit.