54 dead after ethnic clashes in India's Manipur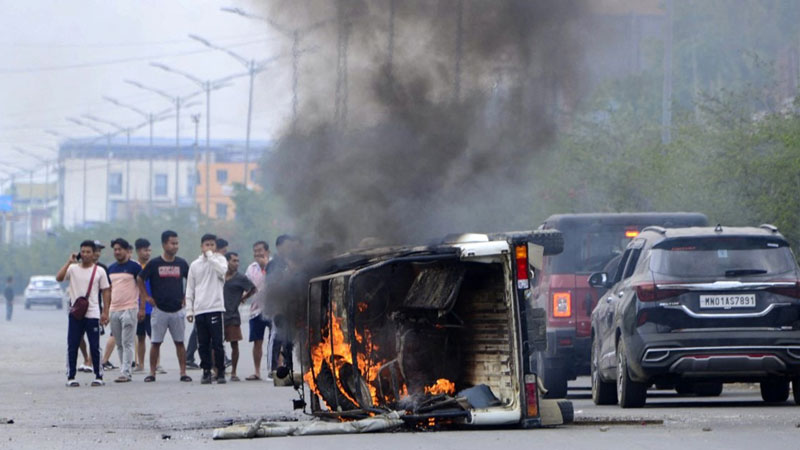 NEWS DESK
The death toll after ethnic clashes in India's remote northeast rose to 54 on Saturday, with fresh violence overnight despite authorities rushing in troops to restore order.
Thousands of soldiers were sent to Manipur state after a protest march by a tribal group turned violent on Wednesday.
Authorities imposed an internet blackout and issued shoot-at-sight orders in "extreme cases" in an effort to contain the unrest.
Police told AFP that the situation remained tense after a fresh bout of violence on Friday night, while The Press Trust of India said hospital morgues in state capital Imphal and Churachandpur district further south had reported a combined total of 54 dead.
"16 bodies were kept in the morgue of the Churachandpur district hospital while 15 bodies were in Jawaharlal Nehru Institute of Medical Sciences in Imphal East district," PTI reported, citing an unnamed local official.
"The Regional Institute of Medical Sciences at Lamphel in Imphal West district reported 23 dead."
Manipur director general of police P Doungel told reporters on Friday that security forces were bringing the situation under control.
Army patrols had "gone a long way to quell the thing off," he said.
Security forces and the Manipur government have yet to issue an official death toll for this week's violence.
But India's law minister Kiren Rijiju told reporters Saturday that "many lives have been lost" after days of clashes alongside damage to property.
The internet blackout has impeded the flow of information from Manipur and details of the latest clashes on Friday remain sparse.
An Indian army unit based in neighbouring Nagaland state said 13,000 people had sought shelter from the violence "within military premises."
On Thursday, security forces fired tear gas in Imphal to disperse protesters, some of whom had set alight vehicles and houses in parts of the city.
Burnt out vehicles were seen on streets otherwise empty due to the imposition of a round-the-clock curfew.
Defence officials said on Friday that additional troops had been brought into the state by road and air.
History of conflict
Tribal groups were protesting against demands by the state's majority Meitei community to be recognized under the government's "Scheduled Tribe" category.
Indian law gives tribes falling under that designation reserved quotas for government jobs and college admissions as a form of affirmative action to address structural inequality and discrimination.
Manipur is part of India's remote northeast, a region linked to the rest of the country by a narrow land corridor that has seen decades of unrest among ethnic and separatist groups.
The northeast is home to dozens of tribal groups and small guerrilla armies whose demands range from greater autonomy to secession from India.
At least 50,000 people have lost their lives in the conflicts since the first insurgency broke out in Manipur in the early 1950s.
Over the years these conflicts have waned, with many groups striking deals with New Delhi for more powers.