Rohingya in Myanmar count the dead after Cyclone Mocha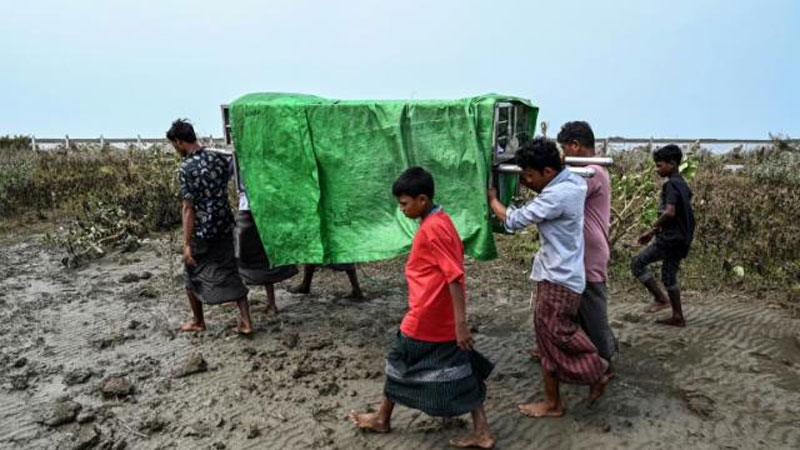 Rohingya families in cyclone-hit Myanmar buried loved ones outside shattered villages and searched the seashore for the missing, expecting little help from a government that denies their identity, AFP reports.
Cyclone Mocha snapped bridges, downed power lines and ruptured close-lying huts in displacement camps and villages across Rakhine state, leaving tens of thousands of the persecuted minority even more on the edge.
On Tuesday, many were trying to pick through piles of debris that had once roofed their homes or clear fallen trees from village paths.
Others were looking for family members not seen since the cyclone made landfall. It was the most powerful storm to hit the region in over a decade.
Dozens were reported dead and more than one hundred were missing.
"We were trying to run but the water was very high and dragged us down," Sar Hla Ma Kha, 40, told AFP from Basara village.
"The water was around our chest. My daughter and her son were lost while we were running."
Many walked the shore searching for family members swept away by the raging waters.
Some found the bodies of their loved ones.
Aa Bul Hu Son, 66, on Tuesday buried his daughter, the latest member of his family to have been taken by the storm.
"I just found her dead body in the lake in the village and buried her right away. I can't find any words to express my loss," he said.
"Nine out of my 14 family members were killed," he told AFP next to the hastily dug grave within sight of the shore.
"While we were thinking of moving, the waves came immediately and took us."
"Only five survived. The (rest) couldn't resist when strong wind swathed them away."
As the small group said Islamic prayers over Aa Bul Hu Son's daughter and lowered her body into the soil, a plane took off from Rakhine state capital Sittwe's airport a few kilometres behind the group.
– Stateless –
Contact was slowly being re-established with Sittwe, a city of around 150,000 people, with roads being cleared and internet connections re-established.
Images broadcast by state media showed troops unloading aid at the airport, and state media reported junta chief Min Aung Hlaing had visited to view the damage.
But few Rohingya in the devastated villages along the Rakhine coast were optimistic about receiving help fast.
Widely viewed as interlopers from Bangladesh, Rohingya are denied citizenship and access to healthcare, and require permission to travel outside of their townships.
A military crackdown in Myanmar in 2017 sent hundreds of thousands of Rohingya fleeing into neighbouring Bangladesh with harrowing stories of murder, rape and arson.
Junta chief Min Aung Hlaing — who was head of the army during the crackdown — has dismissed the term Rohingya as "imaginary."
Many of those remaining live in camps in Rakhine, displaced by ethnic violence that has riven the state for decades.
For those who had struggled to make a life, the storm had wiped out years of work.
"I had to work very hard for my living and to own things and rice," Arbada said outside Basara village.
"Now all of my belongings, rice and even dishes are all gone. Now I've no money to rebuild my house. We are starving. I haven't eaten for two days."
"How many days does a person have to go hungry? I don't know when the government will come to help."