Rohingya repatriation: Myanmar technical team in Bangladesh for verification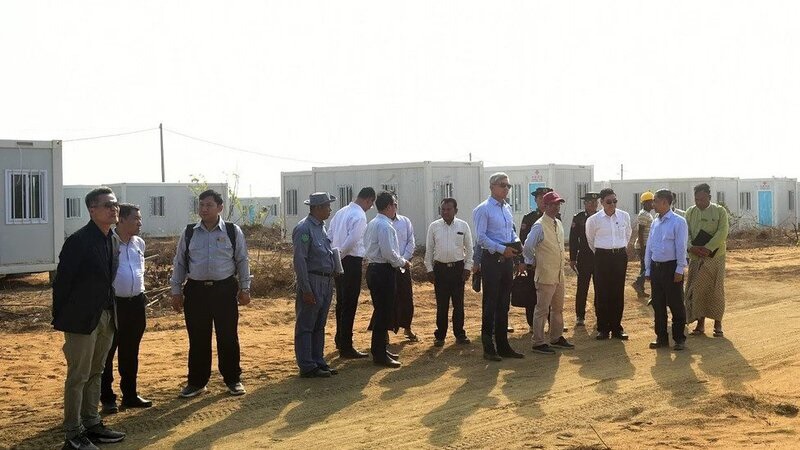 TEKNAF CORRESPONDENTS, COX'S BAZAR CORRESPONDENTS
A Myanmar technical team has arrived in Bangladesh with a view to verifying the potential repatriation list of Rohingyas who fled to Bangladesh. 
The team, comprising 17 members, led by Aung Myo, State Minister for Social Affairs of Myanmar's Rakhine state, arrived in Bangladesh through the Teknaf-Mongdu transit jetty on Wednesday at 10 am. 
Then they reached the resthouse of Teknaf land port around 11 am. 
Other than the minister, the other members of the team were officials of the Myanmar Ministry of Immigration and Population. 
Reliable sources confirmed that a five-member Myanmar security team that accompanied the Myanmar team returned home after the team reached Bangladesh.
Soon after reaching the Teknaf Land Port Rest House, the Myanmar team started the repatriation list verification process. 
Talking to the concerned people, it is learned that the Myanmar team came to Teknaf to verify the list sent from Bangladesh as part of the repatriation process.
The team interviewed about 20 families from the morning of the first day. A total of 70 Rohingyas from 20 families living in Leda-Nayapara camp of Teknaf were brought to the rest house pandal inside the land port by bus, maintaining all security measures. From there, the members of each and every family were called in and the verification process was carried out.
At this time, the representatives of the Refugee Relief and Repatriation Commissioner (RRRC) along with members of the law enforcement agencies of the government were present.
Many Rohingyas who returned from the interview said, "The team is trying to find out in what areas of Myanmar they were in and who were next to them."
According to the sources of the Refugee Relief and Repatriation Commission, in 2018, Bangladesh gave Myanmar a list of 882,000 Rohingyas. Then Myanmar sent a list of 68 thousand Rohingya returnees, in which many Rohingya family members were left out. This matter was conveyed to Myanmar. As part of that, the Myanmar team has come. They will talk to those family members who were excluded from the list and check their documents. 
Additional Commissioner of Refugee Relief and Repatriation Office Shamsud Douza Nayan of Cox's Bazar office said that 17 members of the Myanmar technical team are staying in Bangladesh to verify the list sent by the two countries. They have already started working. 
The Myanmar team will be working from there for several days, he also said.
Meanwhile, Myanmar government has said in a note that the Myanmar technical team will conduct direct interviews of approximately 200 Rohingya families now sheltered in Bangladesh to confirm their past residence. 
The Myanmar technical team is to stay in Teknaf from March 15 to March 22 and interview approximately 70 Rohingyas every day.