Saree made from banana fibre yarn for first time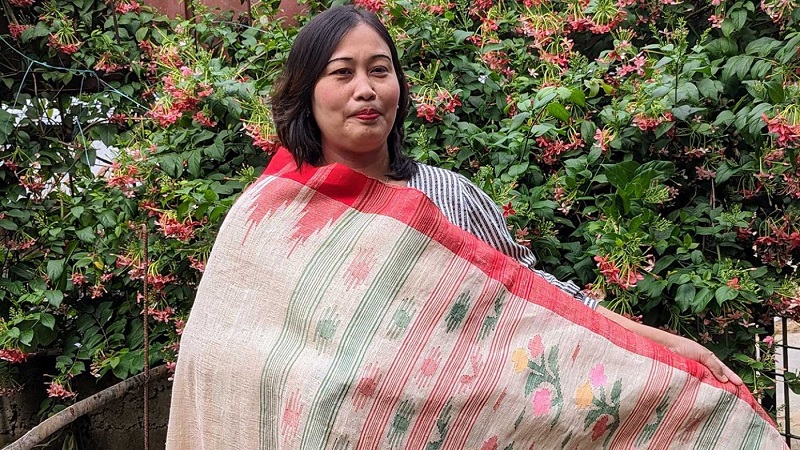 NEWS DESK

A weaver from Moulvibazar has weaved a full-length sari using banana fibre yarn, the first of its kind in Bangladesh, under the direct patronage of the Bandarban district administration.
Radhabati Debi said that different kinds of yarn are being used to make sarees in Bangladesh but with full support from the Bandarban district administration, she has weaved the full length saree from banana fibre yarn and she is ecstatic about it.
Radhabati Debi said that it took her 15 straight days to weave the first saree using 1kg fibre yarn. She is hopeful of cutting down on the production time the next time she makes a saree. Department of Women Affairs Assistant Director in Bandarban Atiya Choudhury told Dhaka Tribune that women in the hill tract areas will be using other material soon to weave after seeing the success of banana yarn sarees. This will change their socio-economic condition as well, she hoped.
Sources say that there are a huge number of banana gardens in Bandarban and keeping in mind the initiative to produce yarn from banana fibre was undertaken. It takes a collection of fibres from 5 trees to make 1kg of yarn. Earlier, curtains, mats, bags, pen holders and various handicrafts were being made of the yarn, but now women are able to use it for producing sarees.
San San Wu, a lecturer at Bandarban University's Business Administration Department and president of a local women's welfare association, said that the saree will promote Bandarban once again among tourists from around the world and make it a popular tourist location.
According to sources, the local women were being trained for the last 15 months on the various usage of banana fibre and the yarn. They say that the saree made from the yarn can be sold for Tk8000 in the local market. But they require modern machinery to take the product into the next level.
Bandarban Deputy Commissioner Yasmin Parvin Tibriji said that the administration took up a pilot project to involve 400 local women in using the yarn to make different handicrafts and they were given an allowance as well so that they remain focused.
She said that to industrialize the entire process the local administration will send a requisition form two machines to the Ministry of Textiles. If the machines are available then the women will be able to make better quality sarees which can then be marketed and sold outside.
The district administration also said that the first saree made from the yarn will be given to Prime Minister Sheikh Hasina as a gift from the women.