Myanmar junta dismisses commander after heavy casualties in Karen State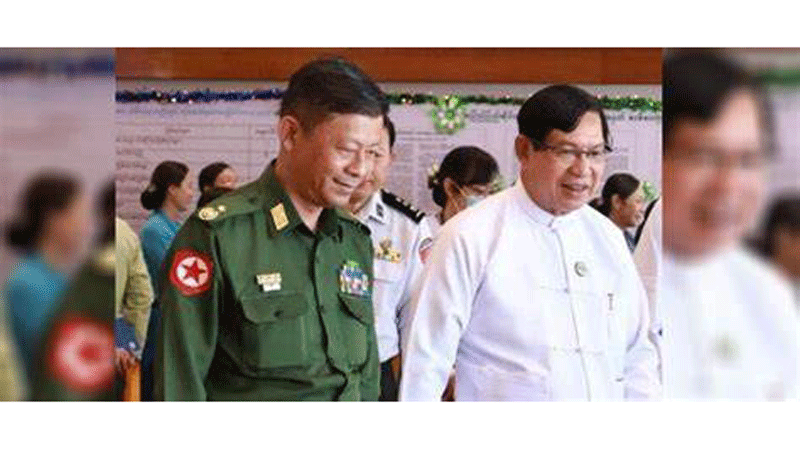 Myanmar's junta has sacked Lieutenant General Khin Hlaing, the Karen State commander, after his forces suffered heavy casualties in clashes with the Karen National Union (KNU), The Irrawaddy reports.
Khin Hlaing is the second general to be forced out after Lieutenant General Than Hlaing, the Sagaing Region commander, was dismissed last year.
Major General Myat Thet Oo, the southeastern commander overseeing Karen State, was also transferred.
The reshuffle suggests junta chief Min Aung Hlaing is unhappy with the heavy regime casualties in Karen State. Recently, the Karen National Liberation Army, the armed wing of the KNU, raided a strategic junta outpost near the Thai border, killing 16 regime troops.
A Min Aung Hlaing protege, Yangon commander Major General Nyunt Win Swe, has succeeded Khin Hlaing as the head of the Bureau of Special Operations 4 with a promotion to lieutenant general.
He nominated the 11th Light Infantry Division commander, Brigadier General Soe Min, who he worked with in Yangon, as the new southeastern commander.
Min Aung Hlaing vowed on Armed Forces Day on Monday to take decisive action against all revolutionary forces.
The KNU, which has fought for independence for more than 70 years, ridiculed the junta chief's statement.
A military analyst said: "This reshuffle is like the one he made last year in Sagaing. It means the junta is losing ground in these areas. Fighting will intensify in Karen State."
Padho Saw Taw, the KNU's spokesman, told The Irrawaddy that the reshuffle was nothing new or serious for the KNU as it had happened before without tangible results.
"Appointing a new commander is what they normally do when they suffer defeats. It won't have any impact on us. Please see what we did recently to them," said he, referring to their raids to the Thai border trade zone in junta-controlled Myawaddy Township and follow-up fighting in the area and at the regime's strategic outposts.
Naypyitaw commander Major General Zaw Hein has been moved to Yangon and he is succeeded in Naypyitaw by Brigadier General Wai Lin.
The commandant of the National Defense College, Major General Kyaw Shwe Tun, has been appointed head of the southern naval headquarters and will be replaced by the Defense Services Academy commandant Major General Zaw Min Latt.