Bangladesh says Myanmar must build trust, safety for Rohingya repatriation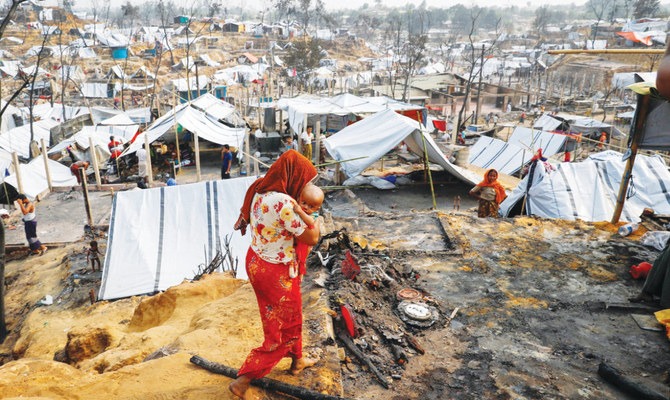 The government in Myanmar must build trust and ensure safety for Rohingya refugees, Bangladesh's refugee commissioner has said following calls to suspend the community's potential return to their homeland.
Bangladesh has been hosting and providing humanitarian support to 1.2 million Rohingya Muslims, most of whom fled violence and persecution in neighboring Myanmar during a military crackdown in 2017.
A leading human rights watchdog last week urged authorities in Bangladesh to halt plans to send Rohingya refugees back to Myanmar, after a junta delegation visited Bangladeshi refugee camps in March to verify hundreds of potential returnees for a process ostensibly aimed at jumpstarting a stalled repatriation agreement.
"Repatriation must be dignified, voluntary and sustainable — this is the stand of Bangladesh," Bangladesh's Refugee Relief and Repatriation Commissioner Mizanur Rahman told Arab News.
"For this, the major part of responsibilities lies on the shoulders of Myanmar authorities…It's the responsibility of the destination country to take their people in confidence and build an atmosphere of trust, safety, and dignity."
Bangladesh is prepared for repatriation to begin, but "the question remains whether the Rohingya are ready for repatriation," Rahman said, adding that the UN refugee agency will be involved to check their willingness if the process were to take place.
Human Rights Watch said voluntary, safe and dignified returns of Rohingya refugees to Myanmar "are not possible while the military junta is carrying out massacres around the country and apartheid in Rakhine State."
In a statement, HRW said Rohingya refugees were "lied to, deceived, or otherwise coerced" by Bangladeshi authorities to meet with the Myanmar delegation last month.
"For future returns to be truly voluntary, the Bangladesh authorities need to allow Rohingya to live freely, without enforcing pressures pushing them to go back," said Meenakshi Ganguly, HRW South Asia director.
Bangladesh has been pressing for the repatriation of Rohingya for years as it has been hosting the refugees despite not being a signatory to the 1951 UN Refugee Convention.
The developing country spends an estimated $1.2 billion a year to support the Rohingya, as international aid for the community has been dropping since 2020. The UN World Food Programme cut food rations for the group earlier this year, as its pleas for donations had not been met.
Though the recent verification process appeared to signal a potential return for the Rohingya to Myanmar, the actual process may still be delayed further, said Dhaka-based migration expert Asif Munir.
The process has been "very faulty" so far, Munir said, adding that Myanmar may only be looking to "demonstrate to the international community that they are willing to take the Rohingya back."
Munir told Arab News: "We have seen before that there was a date fixed and there was no repatriation because eventually, the people were not willing to go.
"We already know that on the other side, there has not been any improvement in the overall situation regarding the recognition of their identity.
"It's not a question of just physical movement. It's more about the conditions and the support they get from both authorities and local communities.
"If people do want to move, then Bangladesh must ensure that it doesn't push them into something that will be detrimental to their rights."