Six years of influx: Stalled Rohingya return raises burden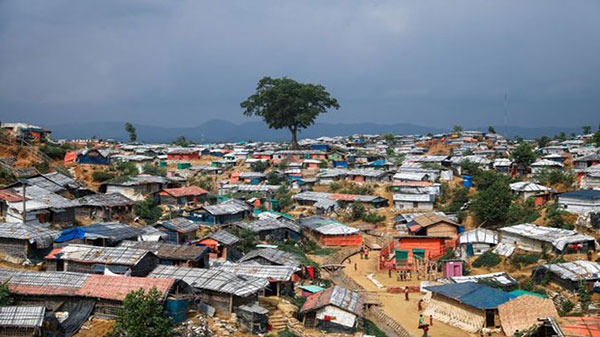 NEWS DESK
Bangladesh could not send back even a single person from around 11 million Rohingya to Myanmar in the past six years since the beginning of their latest influx, raising economic burdens for itself and security concerns as well.
A bilateral move backed by China to send back 1,174 Rohingyas under a pilot project also did not see any light, further increasing uncertainty over the beginning of the process of repatriation for the forcibly displaced community to their country.
The government has blamed both international communities, including the United Nations Refugee Agency and Myanmar's military regime, for their failure to send back Rohingya people sheltered in Bangladesh camps to Myanmar since the large-scale exodus that began on this day (Aug 25) in 2017 amid a military crackdown in Rakhine State.
'International agencies are saying that a congenial atmosphere should be created in Myanmar for the voluntary and dignified return of the Rohingya people. And such a situation may come, as they believe, only after a multi-party democratic system is restored there,' foreign minister AK Abdul Momen said on Monday.
The minister said that he had called on international communities, including the United States of America, to take Rohingyas and provide them jobs there, as it was an additional burden for Bangladesh's economy to host such a large number of refugees.
But the USA had taken only 62 Rohingyas and Canada three, and that too for family reunions, he said.
He, however, said that the Myanmar regime now appeared positive and was changing its attitude after around two years when they did not have any talks with Bangladesh over the matter.
'A list of 1,174 people willing to return to Rakhine State has already been verified. Those who will now return would initially stay at camps and get food cards that would later pave the way to citizenship and other facilities,' Momen said.
The minister blamed  international organisations, including the UN Refugee Agency, for lingering over the Rohingya crisis for decades.
Expressing the opposite view, state minister for foreign affairs Md Shahriar Alam said on Wednesday that the repatriation of Rohingya people did not see any progress even on a trial basis due to the lack of 'goodwill' of Naypyidaw.
'It is a lack of Myanmar's goodwill that holds back the Rohingya repatriation process,' Shahriar told reporters at the State Guesthouse Padma, responding to a question.
He said that there was a trend to undermine Bangladesh's efforts to relocate the Rohingyas from Cox's Bazar as well as the move to send them back to their homeland.
Asked about the challenges, the junior minister said that there were gunrunning and drug smuggling incidents in the Rohingya camps where members of the security forces were also being killed and injured.
An officer of the Bangladesh Air Force and a Rohingya woman were killed and a member of the Rapid Action Battalion was badly injured during an anti-smuggling operation on the Bangladesh-Myanmar border near Naikhyangchari on November 14, 2022.
Quoting the Bangladesh authorities, the New York-based rights group Human Rights Watch reported in July that armed groups killed over 40 Rohingyas in the camps in 2022, while at least 48 refugees were killed in the first half of 2023, including 16 community leaders.
Jobair Ahmed, president of the Arakan Rohingya Society for Peace and Humanity, said that the Myanmar military regime was not interested in Rohingya Muslims repatriation.
'We want to return to our homeland with dignity, freedom, and civil rights like any other ethnic community in Myanmar. The Myanmar government must return our nationality,' he said, adding that the Myanmar junta government seized Rohingya Muslims' citizenship in 1982.
He said that they were not mentally ready to live in any other camp, but the Myanmar government had built many camps inside northern Arakan for Rohingyas.
Badrul Islam, a resident at Jadimora refugee camp under Teknaf, said that he had recently visited Myanmar under the bilateral repatriation process.
On Wednesday, he said that the Myanmar government had built many camps for returning Rohingya Muslims.
'Rohingya refugees are not agreeing to return to any other places but their native villages and their houses there,' he said.
Foreign minister Momen said that Bangladesh had also sought the cooperation of China and Japan, among others, as they had leverage over Myanmar to expedite the repatriation process.
The number of Rohingya people has already crossed 11 lakh following the latest exodus of around seven lakh persecuted Myanmar nationals, who fled a military crackdown in Rakhine state to Bangladesh for shelter, said officials.
At least two attempts at starting the repatriation of the displaced Rohingyas from Bangladesh to Myanmar since the signing of instruments between Bangladesh and Myanmar in 2018 for the repatriation have failed as they refused to return home without a guarantee of their citizenship and security.
Rohingya refugees observe this day as Rohingya Genocide Day with various programmes, including discussion meetings, rallies, and prayer sessions for their relatives killed during the Myanmar military crackdown.
Marking the day, the United Nations High Commissioner for Refugees, in a statement on Tuesday, called for renewed commitment from the international community for financial support to sustain the humanitarian response and political support to find solutions for nearly one million Rohingya refugees in Bangladesh.
'As the humanitarian condition in the world's largest refugee settlement worsens, the challenges surrounding this protracted crisis continue to increase,' it said.
The UN refugee agency urged support to enable Rohingya refugees to benefit from education and skills development through vocational training and other forms of capacity-building.
It also said that a dignified and sustainable return to Myanmar remains the primary solution to this crisis.
The collective goal should be to ensure Rohingyas' voluntary return to Myanmar—to their places of origin or choice—being able to move freely and access documentation, citizenship pathways, services, and income-generation opportunities to rebuild their lives, the UNHCR said.