Cox's Bazar community urges prompt repatriation of Rohingyas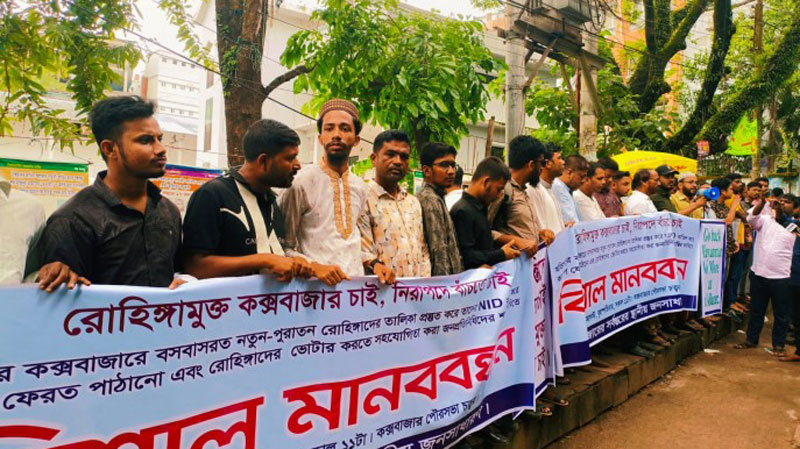 Representatives from Cox's Bazar civil society conveyed this plea during a human chain event held outside the office of the Deputy Commissioner of Cox's Bazar at noon on Thursday.
During the gathering, speakers observed the local population, particularly in the bordering upazilas of Cox's Bazar – Ukhia and Teknaf, is now facing grave threats due to the presence of Rohingya refugees in Bangladesh.
The speakers noted that the Rohingya camps have unfortunately transformed into hubs for criminal activities, including acting as transit points for drug trafficking and illicit businesses. Rohingyas have been found to be implicated in a wide range of criminal incidents.
Expressing their concerns, the inhabitants of Ukhia and Teknaf shared how they now live in a state of extreme apprehension, effectively turning them into a minority within their own communities.
The speakers unequivocally said the only viable solution is the swift repatriation of Rohingyas either back to their home country or to a third country as an alternative option.
This event marked the sixth anniversary of the Rohingya exodus to Bangladesh.
Additionally, the locals vehemently opposed the request made by the United States to grant citizenship to Rohingyas.
Notable figures such as Mayor of Cox's Bazar Municipality Mahbubur Rahman Chowdhury, senior journalist and cultural activist Muhammad Ali Jinnat, and general secretary of Cox's Bazar Press Club Muhammad Mujibul Islam, among others, addressed the rally. The event was chaired by Ishtiaq Ahmad Joy, former president of Cox's Bazar Chhatra League and central leader of Jubo League.