Three mortar shells from Myanmar land in Bangladesh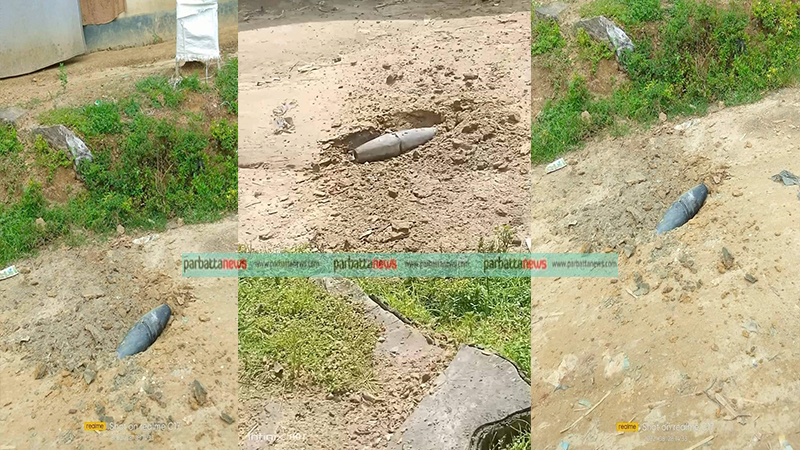 NAIKHONGCHARI CORRESPONDENT
Three mortar shells fired from Myanmar have landed unexploded in Bangladesh's Bandarban district.
The shells fell in the southern neighbourhood of Tumbru – bordering Myanmar – Ghumdhum in the hill district's Naikhongchari.
The southern neighbourhood of Tumbru is surrounded by a temporary Rohingya camp living on the Tumbru zero line of Bangladesh-Myanmar border.
According to multiple sources, there has been heavy shelling on the side of Myanmar, bordering Bandarban district, for two to three weeks.
Myanmar security forces fired the shells during their confrontation with rebel groups, they said.
The shelling was such intense and such near Bangladesh-Myanmar border that it caused panic even among many people on this side of Bangladesh, especially those living in Bandarban's Naikhongchari.
Panicked, they were seen running here and there for cover.
Ghumdhum Union Parishad Chairman Jahangir Aziz said at least a dozen mortar shells have fallen inside Bangladesh over the last one week.
And one mortal shell fell on the premises of the mosque in the southern neighbourhood of Tumbru, Ghumdhum Union, Naikhangchharhi, Bandarban, at 3:00pm today, Sunday, Aug 28, another in the courtyard of one Abu Bakar at 2:30pm, and the third on a mangop tree next to one Ayaz's house in the same neighbourhood, he said.
None of the shells have exploded. Members of the Border Guard Bangladesh have sealed off the places where the shells at the last have fallen, to avoid any security risk, Mr Aziz said.
He added that several such mortar shells from across the border have fall in different areas including his Garjanbunia garden. All of them have remained unexploded. Myanmar security forces are firing mortar shells in helicopters. As a result, thousands of people in the border areas and the Rohingyas who are temporarily staying on the zero line are in extreme panic.
Another source said the fired mortarshells are 120 MM U008006.
Devotees of some mosques in Tumbru area are afraid to go to the mosque due to the heavy shelling over the border. Many people there have already started thinking about going to safe shelters, the source said.
The unexploded mortal shells were surrounded by local BGM members until filing of this report this evening (Aug 28, 2022).
A senior BGB official confirmed to this correspondent that these shells are to be removed by experts after examination avoiding explosions.
BGB Director (Operations) Lt Col Faizur Rahman told the media that the Myanmar are having trouble with separatist groups on the border.
"We are aware of and alert to what is happening inside Myanmar," he said.
Naikhangchharhi Upazila Nirbahi Officer Salma Ferdous said she has heard the news of three mortar shells falling inside the human settlements in Bangladesh.
There are reports of more shells from Myanmar falling inside Bangladesh, she said.
"We will notify the higher authorities after looking into those reports," Ms Ferdous said.