US imposes fresh sanctions on Myanmar, targets jet fuel suppliers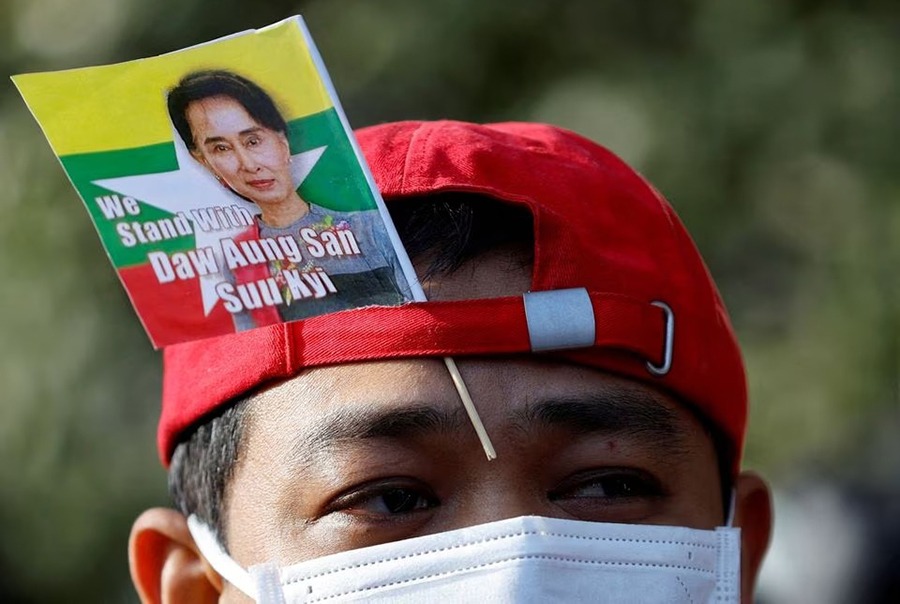 The United States on Friday announced further sanctions against Myanmar, targeting the supply of jet fuel to Myanmar's military following air strikes in civilian populated areas, the US Treasury Department said, Reuters reports.
The Treasury in a statement said it imposed sanctions on two people and six entities connected to Myanmar's military that Washington accused of enabling its continuing atrocities, including through the import, storage and distribution of jet fuel to the military.
Since a junta seized power in February 2021, Myanmar has been plunged into chaos, with a resistance movement fighting the military on multiple fronts following a bloody crackdown on opponents.
The Treasury said the military has continued to commit atrocities and violence against the people of Myanmar since the coup and said it has increasingly relied on air strikes in civilian populated areas, citing an air strike on the village of Let Yet Kone in central Burma that impacted a school and one in the northern state of Kachin that killed as many as 80 people.
"Burma's military regime continues to inflict pain and suffering on its own people," the Treasury's Under Secretary for Terrorism and Financial Intelligence, Brian Nelson, said in the statement, using the Southeast Asian nation's former name.
"The United States remains steadfast in its commitment to the people of Burma, and will continue to deny the military the materiel it uses to commit these atrocities."
Myanmar's embassy in Washington did not immediately respond to a request for comment.
The Treasury targeted Myanmar military aviation fuel suppliers on Friday, imposing sanctions on Myanmar-based Asia Sun Group, Asia Sun Trading Co Ltd And Cargo Link Petroleum Logistics Co Ltd.
Also targeted were individuals and entities the Treasury said were associated with or have provided equipment to Myanmar's military, including a close associate of the military regime leader and the associate's companies, Star Sapphire Group of Companies and Star Sapphire Trading Company Limited.
The Treasury on Friday also issued an alert on the sanctions risks associated with the provision of jet fuel to Myanmar's military.
The United States and other Western countries have already announced a series of sanctions targeting junta members, the military government's agencies, and military-run companies, seeking to curb their ability to raise money.
A UN report published this month found that violence had intensified in northwestern and southeastern Myanmar due to the military's "indiscriminate air strikes and artillery shelling, mass burnings of villages to displace civilian populations, and denial of humanitarian access".
The junta has previously said it is carrying out a legitimate campaign against what it calls terrorists and denied atrocities have taken place.