Where development still remains a far-fetched reality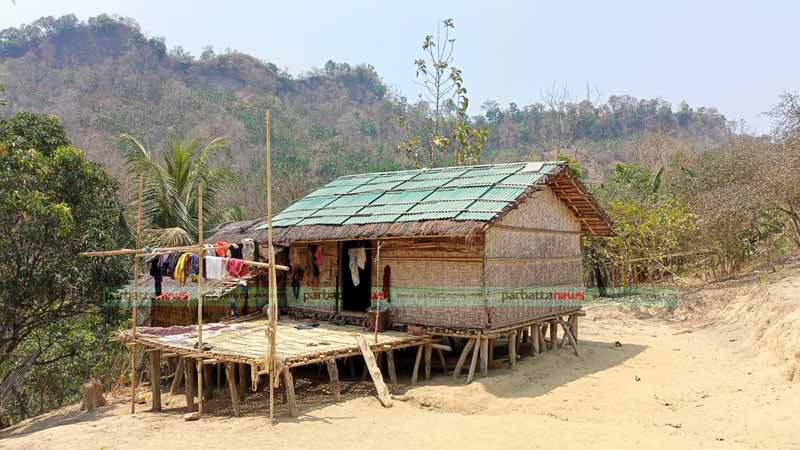 Staff Correspondent, Bandarban
When Bangladesh is basking in its development glory, it is unbelievable that a part of the country could still remain untouched by the development itself.
More surprisingly, it is 35 years.
For the last 35 years since 1987, Shukna Jhiri Para, a neighbourhood under Tulachhari in Bandarban's Boangchhari upazila has not received any government aid or witnessed any development work.
Shukna Jhiri Para – roughly translated, it means a dried-up creek neighbourhood – came into being 35 years ago housing around 10 families, which is now 28.
Shukna Jhiri Para people commute to and fro Boangchhari Sadar walking along a hilly creek road. The road becomes unusable during the rainy season as that goes under deep waters.
Though there is an alternative hilly road, it also becomes replete with potholes during the rainy season, largely cutting off Shukna Jhiri Para from the outside world.
Shukna Jhiri Para is around 9 kilometres away from Boangchhari Sadar.
Just to reach the nearby Tulachhari under Boangchhari Sadar, Shukna Jhiri Para people have to walk along a three-kilometre hilly creek or sloping earthen road.
Most of Shukna Jhiri Para people depend on zum or shifting cultivation for their livelihood. And they spend leisure time waving cloth. Most houses are in dilapidated conditions too.
Most families struggle to run their families with what they earn. Many are also unable to study due to lack of money.
Shukna Jhiri Para people grumble that not even a non-government organisation has ever stood by them when they have been struggling to live by for so many years.
Prime Minister Sheikh Hasina has gifted many people houses in the country, while they haven't got any though their houses are in decrepit conditions, they say.
There is even no electricity or mobile network in Shukna Jhiri Para, they add calling on the authorities concerned for providing them with all they need to ease their living.
Shukna Jhiri Para resident Chigunya Tonchongya alleges that they had several times informed the authorities concerned of their sufferings but that bore no fruits.
Another Shukna Jhiri Para resident Sulopona Tonchongya says she somehow managed to pass HSC exams but could not continue her study due to lack of family earnings.
"My father has fallen ill for so long. My only brother and I have remained unemployed. We have to struggle to run the family. Our house is also in a dilapidated condition but we cannot repair it," she says.
Shukna Jhiri Para's Karbari or head Shashonmoni Tonchongya says, "We have several times applied for getting our roads erected and houses as gifts from the prime minister, but got no positive feedback.
"For the last 35 years, not an iota of government development has reached here. All of us are very low-income people. Still there is nobody to stand by us," she adds.
Boangchhari Sadar Union Parishad Chairman Mehla Ong says, "I have just become the chairman here. I don't know who did what when they were chairmen.
"But I would of course keep my eyes on Shukna Jhiri Para. I would try my best for their development. I have even told my member about this."
Bandarban Deputy Commissioner Yasmin Parvin Tibrizi says, "The local chairman and members have never informed us of this.
"It is very unfortunate that despite being under Boangchhari Sadar Union, Shukna Jhiri Para has not got any government aid.
"As I have now come to know about this, I would try my best to stand by them."