262 UPDF men killed by JSS in 24 years, Hill Women's Federation claims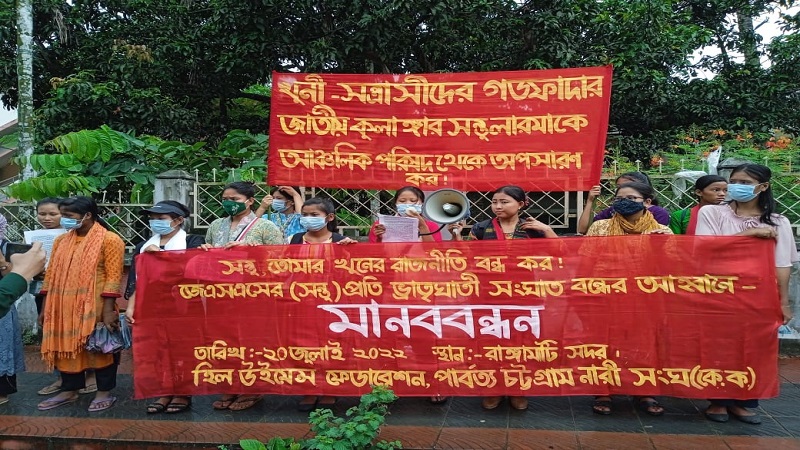 STAFF REPORTER
A total of 335 UPDF (United People's Democratic Front) leaders and supporters have been killed in the last 24 years, the Hill Women's Federation has claimed.
Of them, 262 were killed by JSS-Santu Larma (Jana Samhati Samiti – Santu Larma) alone, Niti Chakma, president of the Federation, said while reading out a statement at a human chain programme in front of Chittagong Hill Tracts Regional Council in Rangamati on Wednesday, July 20, 2022. Chittagong Hill Tracts Women's Association and Hill Women's Federation organised the event.
Jyotirindra Bodhipriya Larma, better known as Santu Larma, heads the Parbatya Chattogram Jana Samhati Samiti (PCJSS), better known as JSS (Jana Samhati Samiti).
Criticising Santu Larma for violating the terms of his JSS' agreements with the UPDF, he said, "You have negotiated with the UPDF on several occasions. But you have violated your agreement with the UPDF at will."
She cited that the JSS violated the Haranghia agreement of Khagrachhari signed in February 2000, the Chittagong agreement signed in 2006 and the last one signed in 2018.
The Hill Women's Federation leader called on Santu Lerma to end fratricidal conflicts in the region abiding by the terms of the agreement that was signed with the UPDF in 2018.