Militant outfit Sharqiya financed KNF Tk 1.7m to buy heavy weapons: RAB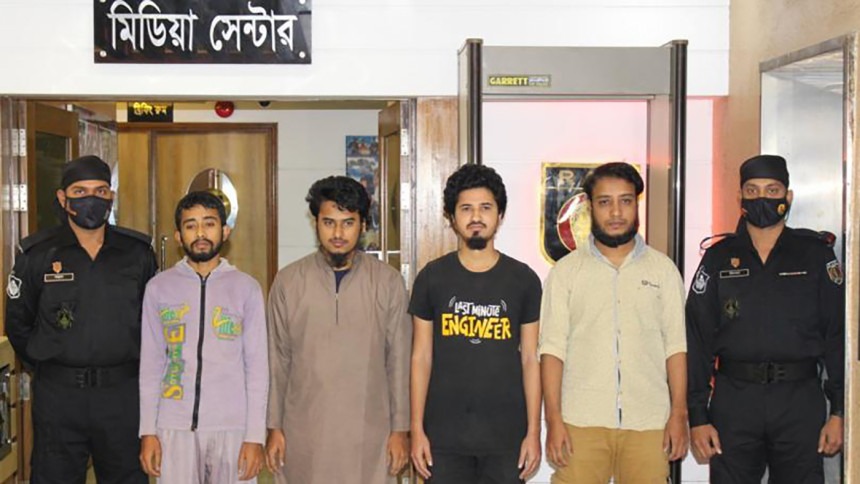 NEWS DESK
New militant outfit Jama'atul Ansar Fil Hindal Sharqiya financed Tk 17 lakh to a separatist group of Chattogram Hill Tracts Kuki-Chin National Front (KNF) to buy heavy weapons.
The outfit sent over Tk 50 lakh to various places through banking channels and mobile banking in the last eight to nine months for conducting various activities of the organisation.
Khandaker Al Moin, director of, the Legal and Media Wing of the Rapid Action Battalion disclosed the information in a press briefing at its media centre in the city today (November 4, 2022), hours after arresting four members of Jama'atul Ansar from Laksum in Cumilla.
Two extremist books, a training syllabus, nine leaflets, a diary containing accounts of earnings and expenditures of the organisation and four books were recovered from the four arrested last night.
The arrestees are the chief financial coordinator of the militant group Muntashir Ahmed alias Bachchu, Hijrat affairs coordinators Ismail Hossain and Abdul Quader and the third in command of the military wing Helal Ahmed Zakaria.
With the latest arrest, so far 26 leaders and operatives of the new militant outfit have been arrested while RAB disclosed the identities of 55 who left home to join the outfit. Three KNF members have also been arrested.
Law enforcers started a crackdown in the remote hills of Bandarban and Rangamati on October 10 following information that Jama'atul Ansar members are now taking training on explosives and operating firearms in remote hilly areas with support from "separatist" groups KNF, RAB said earlier.
Moin said Muntashir used to collect funds from different sources, donors and sympathisers and distribute the money in various sectors through banking channels and mobile banking under the direction of the outfit Majlish-e-Shura member (finance) Mosharraf Hossain Rakib.
Muntashir sent some of the amounts to family members and close relatives of the outfit's members.
"We have even found an individual who has provided his hard-earned money to the organisation," said Moin.
He said they came to know that the outfit's Ameer Anisur Rahman alias Mahmud alias Tamal was the manager of a well-known CNG filling station in Cumilla around two years back.
He was an active member of the banned militant outfit Ansar Al Islam.
After fleeing home, he sold his house in Cumilla at Tk 17 lakh and bought 3.5 bighas of land in Naikhangchhari of Bandarban. On the land he was living with family, farming and also carrying out organisational activities, Moin added.
Ismail and Quader admitted to RAB that the two sent 29 youths to Bandarban.
They also said the outfit has a female wing.