A harmonious CHT can reach the peak of development: Dipankar MP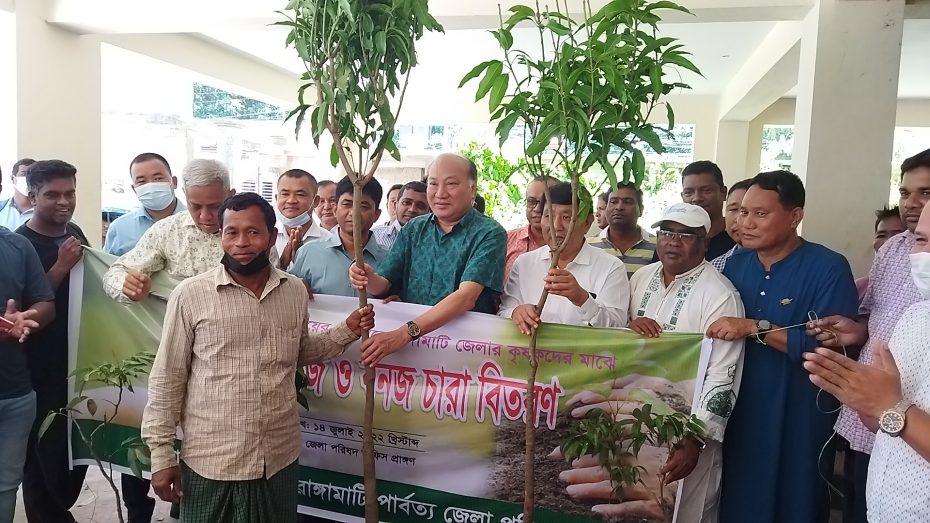 STAFF CORRESPONDENT, RANGAMATI
The development in the Chittagong Hill Tracts can reach the peak if harmony is maintained in the region, Dipankar Talukdar, the Member of Parliament from Rangamati constituency, has said.
"If harmony is maintained, we will reach the peak of development," he said while speaking as the chief guest at a function in Rangamati on Thursday, July 14, 2022.
The function organised by Rangamati District Council at its auditorium was meant for distributing free agricultural inputs and sewing machines, among others, funded by the Chittagong Hill Tracts Ministry.
"When we speak against illegal weapons in the hill tracts, a group speaks against us. We made people aware and now they don't want to pay any toll," the Rangamati MP said.
As for the hike in prices of essentials, Mr Talukdar, also chairman of the Parliamentary Standing Committee on Food Ministry, said it's all because of the Ukraine-Russia war.
"However, prices of essentials are much lower in our country than in many countries in the world," he added.
At the function, 12,000 saplings of mango, litchi and mahogany varieties, 16 power tillers, 45 power pump machines were distributed among farmers, 90 sewing machines among distressed women.
Besides, fourteen traders, affected by fire in Collegegate area of Rangmati town, each received Tk 10,000.
The families of two Awami League leaders killed in a terrorist attack in the hill district's Kaptai received Tk 600,000 as cash assistance.
Chairman of the District Council Angsui Pru Chowdhury presided over the function.
Chief Executive Officer of the District Council Ashraful Islam, and District Council members Haji Musa Matabbar and Angsuisain Chowdhury, among others, present.