parbattanews.com gets government permission for registration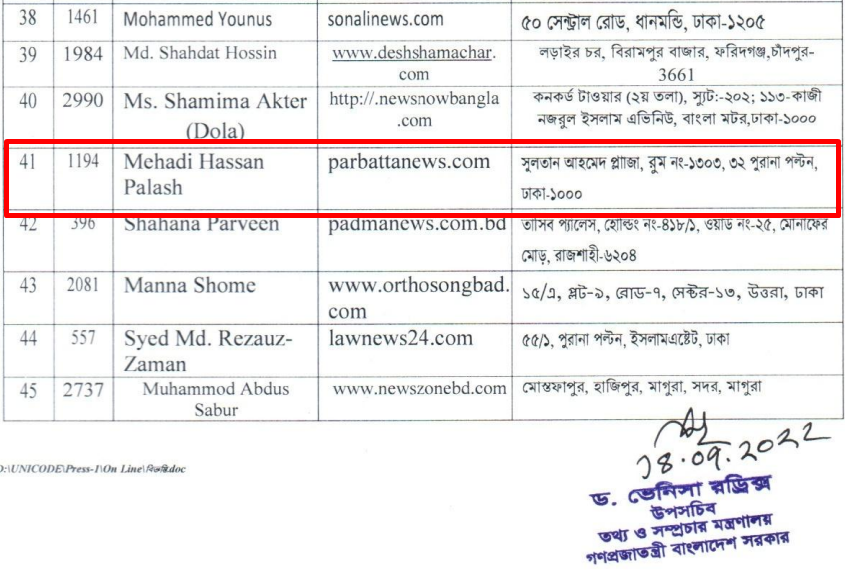 STAFF REPORTER
parbattanews.com, the first national media on Chittagong Hill Tracts and Cox's Bazar, has received permission from the government for its registration as an online news media.
parbattanews.com is the most popular online news provider in the Chittagong Hill Tracts and Cox's Bazar.
The information ministry published a list of 45 online news portals on Thursday, July 14, 2022 allowing them to be registered anew.
parbattanews.com ranks 41st on the list signed by Dr Vanessa Rodricks, a deputy secretary at the information ministry.
In an immediate reaction to such good news, parbattanews.com Editor Mehadi Hassan Palash said, "First of all, I give thanks a million to the Almighty, Allah, for this. Nothing happens without His decision.
"After that, I would like to thank all the concerned quarters of the present government, including the Hon'ble Information Minister, for their role in this. This has become possible due to their generosity.
"In addition to this, I would also like to thank a bunch of dedicated journalists of parbattanews.com who were and still are with us from the very beginning through thick and thin.
"Due to their hard work, parbattanews.com, from its inception, has become the most popular media in the Chittagong Hill Tracts and Cox's Bazar."
He thanked the readers in millions for supporting and staying with parbattanews.com.