Bangladesh declares state mourning on Saturday for Palestinians killed by Israel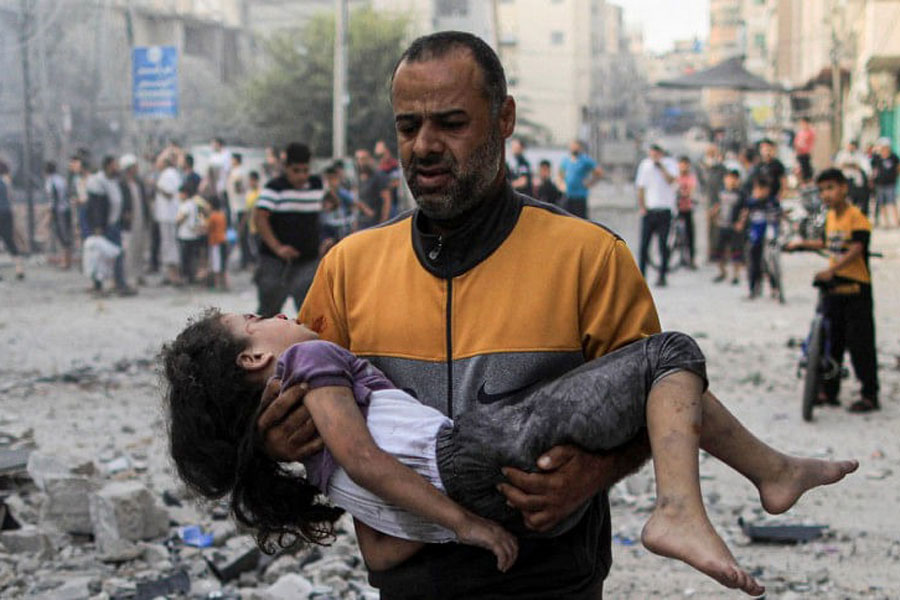 NEWS DESK
Bangladesh will observe state mourning on Saturday for the Palestinians killed in recent Israeli attacks, Prime Minister Sheikh Hasina has announced.
The prime minister also called for offering prayers for the slain Palestinians in all mosques after the Friday prayers and other places of worship across the country, she announced on Thursday while addressing a program arranged at Sarak Bhaban in Dhaka to open 150 newly constructed bridges in 39 districts and 14 newly built overpasses of the Roads and Highways Department simultaneously.
The victims of the brutal Israeli attacks are not only Muslims but also Christians and Jews, she said.
She said Bangladesh will be in the fight to establish the rights of the Palestinian people as repeated attacks on Palestine is unacceptable.
"We want this war to stop quickly. The Palestinian people should get back their lands occupied by Israel. The territories must be given back to the people of Palestine," she said.
Referring to her Wednesday meeting with envoys of OIC member countries based in Dhaka, Sheikh Hasina said she told them that everyone has to fight unitedly to establish the rights of the Palestinian people.
"We are also with them. We will have to fight. The repeated attacks on them can never be accepted. We cannot accept it," she said.
She said Bangladesh has already condemned the way Israel has killed Palestinians – innocent people including women and children – by attacking a hospital and other places in Palestine.
"It is unbearable to see blood-stained faces of children who were killed or injured in bombing attacks by Israel," she said.
She said Bangladesh will send medicines, dry foods and other necessary items for the people of war-torn Palestine.
"We will send medicines, dry food and necessary commodities for women and children. We are always beside pressed people with whatever resources we have," she added.
The prime minister has already asked the health ministry to take steps to send medicines to Palestine.