Bangladesh-India Poem Festival entertains Rangpur people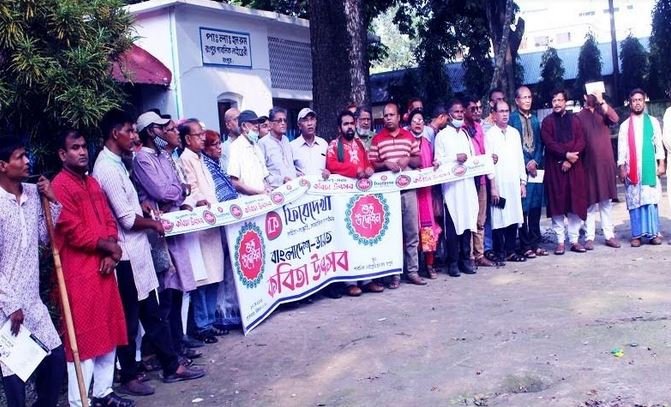 Bangladesh-India Poem Festival entertained many literary personalities and common people at Rangpur Public Library Hall Room in Rangpur city on Friday night, May 27, 2022.
Noted literary and socio-cultural organization of Rangpur 'Firdekha' organized the festival.
Poets from Rangpur, Rajshahi and Bogura districts in Bangladesh participated in the festival in persons and poets from West Bengal in India virtually.
Noted educationist, literary personality and researcher Professor Dr. Rezaul Haq and writer and organizer Monwara Begum jointly inaugurated the festival in the afternoon.
Literary personality Dr. Shah Sultan Talukder read out an essay on contemporary poetry in the first session of the festival with writer and Adviser of 'Firedekha' Rezaul Karim Mukul in the chair.
General Secretary of literary organization 'Kabikunj' of Rajshahi poet Ariful Haque, poet and writer Shibli Moktadir of Bogura, Former Principal of Rajshahi Barind College poet Alamgir Malek, Vice-principal of Bogura Government Azizul Haq College, poet and writer Professor Khayyam Kader and President of 'Lekhok Chakra' of Rangpur poet Islam Rafique addressed the inaugural session.
General Secretary of 'Firedekha' and poet and publisher Shakil Masood gave a welcome speech at the beginning of the program.
Poets and cultural activists Farhaduzzaman Farooque, Narayan Chandra Barma, Badal Rahman, Amjad Hossain Sarkar, Razzaque Dulal, Shaibal Noor, Safwan Amin, Sohel Rana, ASM Habibur Rahman, Ismat Ara, Ataur Malek, Irshad Jamil, Kamrun Nahar Renu, Taibur Rahman Babu, Shipun Akhter Shipu, Delwar Hossain Rangpuri, Nazira Parveen, Rabin Zakaria, Mahmudul Alam, Sharmin Akhter Moni, Shanta Romena, Moynul Islam, Masum Morshed, Rafiqul Islam Chowdhury, Tapas Mahmud, among others, recited poems in the first session.
Poets Subir Sarkar from Koochbehar, Ambrish Ghosh from Alipurduar and Saikat Sen from Mathabhanga in West Bengal of India joined the program virtually and recited poems.
Later, poets, writers, socio-cultural and literary personalities Mahbuba Lavin, Hossain Raushan, Aftab Hossain, Umar Farooq and Dr. Mofizul Islam Mantu, among others, participated in the open dissuasion session.
The festival ended at 11 pm.