BGB seizes drugs and smuggled goods worth Tk 131 crore in May 2022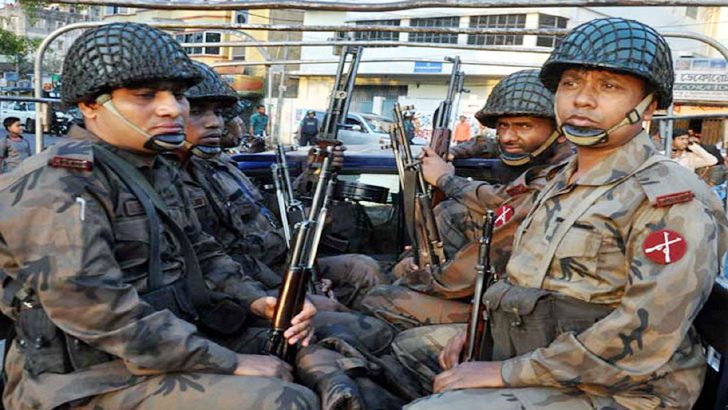 STAFF CORRESPONDENT
The Border Guard Bangladesh (BGB) has confiscated various types of smuggled goods, arms and ammunition and drugs worth Tk 131.41 crore by conducting raids in the border areas and elsewhere in the country in May 2022.
BGB Public Relations Officer Md. Shariful Islam shared this information with the media.
The confiscated drugs include 12,13,171 pieces of yaba tablets, 7 kg 898g crystal meth ice, 1 kg 885g heroin, 3kg 150g opium, 22,067 bottles of phensedyl, 12,588 bottles of foreign liquor, 3,960 cans of beer, 2,148kg marijuana, 2,80,639 packets of bidis and cigarettes, 835kg tobacco leaves, 51,137 injections, 5,696 Iskaf syrups, 1,031 bottles of MKDil / Cofidil, 6,52,162 pieces of various types of medicine 4,400 Anegra/Senegra tablets and 68,963 other tablets.
Among the confiscated smuggled items are 14 kg 585g gold, 35 kg 274g silver, 61,959 cosmetic items, 18,786 imitation jewelery, 9,526 saris, 1,800 three-pieces/shirt-pieces/scarves/blankets, 466 clothes, 1,942 cubic feet of wood, 26,192 cubic feet of stone, 5,536kg of tea leaves, 49,600kg of coal, 111kg of current net, 1 touchstone statue, 5 trucks/covered vans, 4 private cars/microbuses, 7 pickups, 25 CNG-run three-wheelers/Easybike and 84 motorcycles.
A total of 31 different types of weapons, 2 magazines, 84 rounds of ammunition and 116 kg of explosive sulfur were also seized during the last month of BGB raids.
At the same month, the BGB also took legal action against 226 smugglers and 163 Bangladeshis, 9 Indians and 1 Afghan national on charges of being involved in various types of drugs trafficking and smuggling, including yaba.