Shakib named Bangladesh Test captain, Liton deputy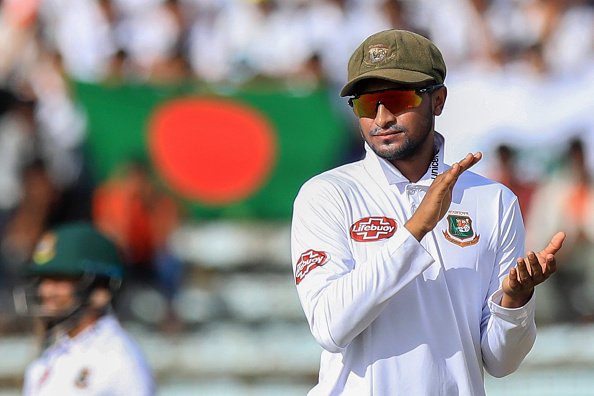 NEWS DESK
Ace allrounder Shakib Al Hasan was named as the Test captain of Bangladesh as it was expected.
The Bangladesh Cricket Board (BCB) president Nazmul Hassan Papon made the announcement today, while confirming Liton Das as vice-captain for the longer version format.
The announcement came two days after Mominul Haque decided to quit the Test captaincy following a lean batting streak that extended to seven straight single-digit figures.
He could just reach the double-digit mark thrice in the last 15 innings, which gave the critics an opportunity to raise their voice high against him.
"A total of three players were in contention to be the captain of Test side," Papon said after the board's executive committee's meeting held today at BCB's headquarters at Sher-e-Bangla National Cricket Stadium in Mirpur.
"At first, we decided to announce a vice-captain alongside Test captain. So after an elaborate discussion, we have decided to appoint Shakib as the captain for this format. Liton Das will act as his deputy."
Shakib will start leading the side for the third time from the upcoming West Indies series. Coincidentally in the last two times, he also began his captaincy career against West Indies.
Shakib firstly was appointed as the captain during Bangladesh's tour in West Indies in 2009 after Mashrafe Bin Mortaza was injured on the first day of the first Test. That remains Mashrafe's last Test.
Under Shakib's captaincy, Bangladesh won that series to make history as that was the Tigers' first series victory on foreign soil.
Following a disastrous Zimbabwe tour in 2011, Shakib was stripped off the captaincy but back to being the captain again in 2018 when Mushfiqur Rahim stepped down.
At this phase, Shakib led the side till 2019 before being banned by ICC for two years for his failure to report the corrupt approaches from the bookies.
In those two terms, Shakib led the side in 14 matches and won just three while he lost 11.
The board however was in dilemma to give him the captaincy since he was not quite regular in Test format of late. But Shakib ensured that from now on, he will play the longer version format on a regular basis.
According to most of the board members, Shakib is the best option to lead the side in Test cricket if he plays this format regularly.
Mominul led the side in 17 matches and won three including a memorable Test win against New Zealand on Black Caps den earlier this year. Under his captaincy, Bangladesh lost 12 matches and drew two. But of late he was unable to motivate the side because of his serious bad patch.
Mominul was given Test captaincy in 2019 after Shakib Al Hasan was banned from the cricket.
But his batting form took a nosedive once he took over the captaincy. Before being captain, he had scored 2613 runs with an average of 41.48 in 36 Tests but after getting the captaincy, his average went down to 31.44 in 17 Tests.
In this period he made just 912 runs that included three centuries and two half-centuries. Mominul now has 3525 runs under his belt in 53 matches with 11 centuries, which meant after being captain he hit just three centuries.
Mominul said it is tough to lead the side when the captain himself suffers from run-drought.
"When you will play well, you can motivate the team even if the team goes through a bad time. But the thing is that I am not doing well and at the same time, the team is doing bad. So it is really tough to lead the side in this situation," Mominul said as the reason of quitting the captaincy.