Brig Gen Mohiuddin Ahmed assures peace and stability in Bandarban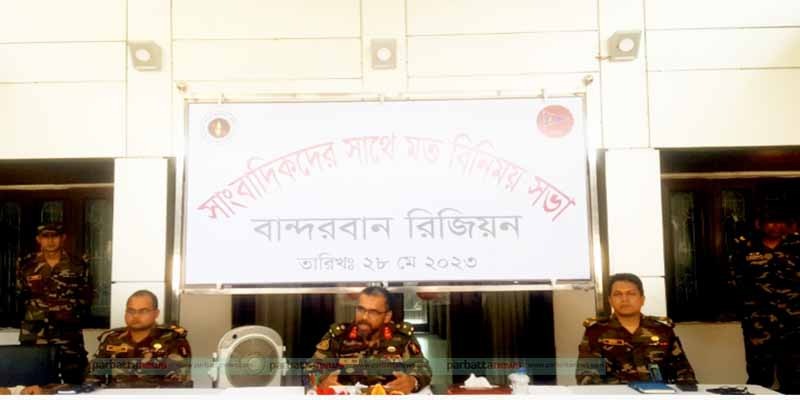 CONTENT CREATOR, BANDARBAN BUREAU AND BANDARBAN CORRESPONDENT
Brigadier General Golam Mohiuddin Ahmed, commanding the 69 Infantry Brigade Bandarban, emphasized the commitment of the Bangladesh Army to work tirelessly for the country and its people, safeguarding peace and order in the hill tracts.
He made this statement during an exchange meeting with electronic and print media journalists working in the Bandarban district. The meeting took place on Sunday morning (May 28) in the officers' mess hall room, organized by the Bandarban Army Region.
Concerned with the recent activities of certain terrorist groups in Bandarban, Brigadier General Ahmed expressed his worry about the resulting instability in the region.
He stressed that this situation is detrimental to both the country and its people. Thus, he called upon everyone to unite and collaborate in the pursuit of maintaining peace and order in Bandarban.
Brigadier General Ahmed also highlighted the importance of presenting the demands of the KNF (Kuki National Front) to the government in a logical manner.
He assured that if the KNF's demands are justified, the government will duly address them.
Additionally, he acknowledged the ongoing development in the Chittagong Hill Tracts, cautioning that while some local individuals may benefit, it could lead to increased suffering for the public.
In order to address these concerns, Brigadier General Ahmed emphasized the necessity of communication and negotiation between the involved parties as the ultimate means of resolution.