Displaced and disenfranchised: Rohingya strive to preserve cultural roots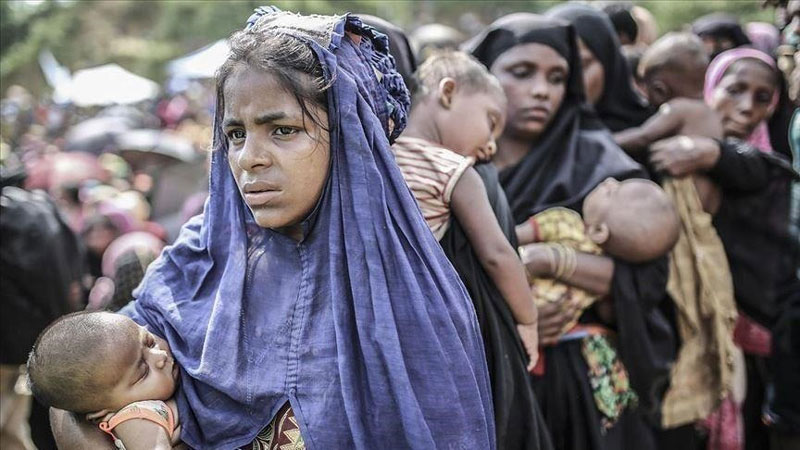 NEWS DESK
Uprooted from their ancestral lands, a group of young Rohingya Muslims in southern Bangladesh are trying to keep their heritage alive among their community's children and teenagers, Anadolu Agency reports.
Mohammed Rezuwan Khan, 26, is one of those high school graduates, shunned from higher education in his native Rakhine, a state in western Myanmar, due to his ethnic background as a Rohingya, despite having passed the matriculation exam there.
His prospects of attending university were dealt a final blow in August 2017, when him and his family had to flee their village because of a brutal crackdown by Myanmar's military. In what rights groups have since called a genocide, nearly 1.2 million Rohingya were forced into neighboring Bangladesh, where they have been living for years in overcrowded refugee camps.
"Everyone lost everything they owned. The (Myanmar) military set fire to our villages and erased every last sign of our existence from the land where we lived for generations," Khan told Anadolu.
He is now working to keep the next generation of Rohingya acquainted with their roots, preserving cultural elements like folktales before they are lost.
With as much as 54% of the Rohingya population being children, members of the group fear their community's future is in peril as children and teenagers are deprived of knowledge about their culture, language, folktales and morals.
Members of the ethnic group are also not allowed to attend higher education institutes in Bangladesh, nor seek formal employment.
On Friday, Khan marks the Aug. 25 Rohingya Genocide Remembrance Day, renewing his commitment to his community.
"I started my refugee life with emptiness," said Khan, who lives in a tin shed bamboo shelter with his wife, daughter, mother and brother.
"I realized that every newborn in the refugee camps grows up without the touch of our own history, culture, folktales, and education. These are our roots, our identity, which the military junta wanted to erase."
Project Rohingya Folktales
Khan initiated the Rohingya Folktales Project to preserve their native culture, language, and stories.
In 2018, he had the opportunity to work with an American friend, Alex Ebsary, on another project, Music in Exile, in the Rohingya refugee camps, located in the district of Cox's Bazar.
Khan became a folklorist in 2020, translating folktales into English and sending them to Ebsary, who helps Khan edit the scripts.
"I collect the folktales from educated and older Rohingya from across the camp. I gather them by visiting the elderly on foot, which takes a lot of time and effort," Khan said.
These stories teach moral lessons from elderly Rohingya to children, he added.
"I've already published a book that contains those folktales," he said.
Khan also launched a website for his folktales project and is involved in teaching and managing an informal school.
"Our songs, language, culture, folktales, and education curricula are our assets, our identity," he emphasized.
"We need to preserve these before they are lost forever. Our new generation needs to learn them so that we can return to our homeland, Myanmar, with proper knowledge and education."
Not alone
Khan is not alone in his mission to educate younger Rohingya.
Aebad Ullah, a young man living in Cox's Bazar Camp 7, runs a school for about 600 children and teens from pre-primary to grade 11.
"After passing the matriculation (exam) in 2015, I applied to attend a university to study for a bachelor's degree in botany, but the Myanmar government did not allow me to enroll because I am a Rohingya," he told Anadolu over the phone.
Ali Jinnah Hussin, another resident of the camps, is no different.
Now 26 years old, he was deprived of university training years ago and today works as a humanitarian worker and communications director of the camp-based Rohingya Youth Association, involved in teaching and developing the skills of young Rohingya students.
Describing their situation, Khan said there were hundreds of community-based informal schools in the refugee camps that teach Myanmar's curricula, as well as their native culture and moral values.
Renewed calls to solve crisis
However, working toward this cause has not been without obstacles for Khan and the rest of the group.
"We have to run my work and schools with our own funds. We don't get any assistance from others. It's getting harder to run these activities due to financial troubles," Khan said.
"We get only $8 per month, which is hardly enough to feed a family. We have to completely depend on food assistance as we don't have work permits," he added.
"It seems we Rohingya will starve to death. There's no food, no work. It's hard to look at my wife, my daughter, my mother, when I'm so powerless to help," Khan said, his voice heavy with emotion.
He urged the global community to come forward to save the lives of Rohingya, who are quietly fading from the world's attention.