Fire at Rohingya camp razes dozens of shelters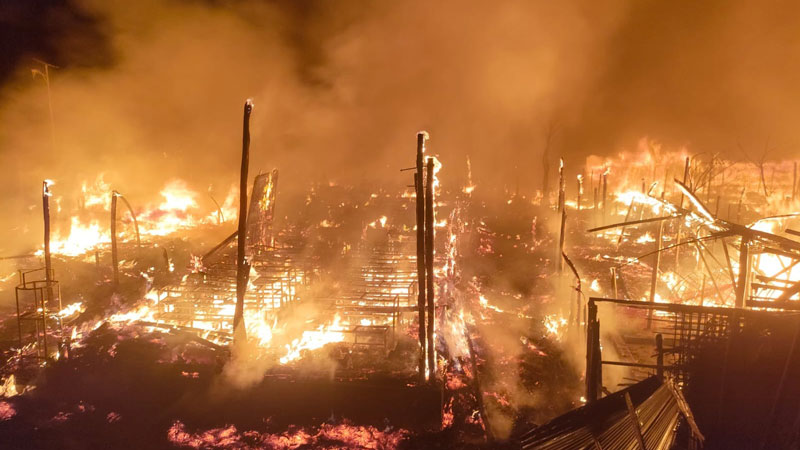 NEWS DESK
At least 100 shelters of the Rohingya refugees at Teknaf in Cox's Bazar turned to ashes in a fire late Tuesday night (April 18).
The incident was reported from Block C of Camp 24 (Nuralipara camp) in Leda around 11:10pm.
It was brought under control around 12:30am by the joint efforts of the Fire Service, members of the Armed Police Battalion (APBn) and the refugees. No casualties were reported in the incident.
APBn 16 Superintendent of Police (Media) Mohammad Jamal Pasha said they were investigating the reason behind the fire.
"The blaze was put out after a one-hour effort. The losses could not be ascertained immediately, but around 50 shelters were burnt down in the fire," he added.
Local sources said over 100 Rohingya shelters were completely burnt in the fire.
Earlier, at least over 2,664 shelters were destroyed in a fire in three Rohingya camps in Ukhiya's Balukhali on March 5. The fire first broke out in the B and E blocks of camp no 11 around 3pm, and later spread to neighbouring camps no 10 and 9.
Later, a probe body concluded that it was an act of sabotage.
In recent years, over 300 fire incidents have been reported in Cox's Bazar's Rohingya camps — home to some 1.2 million displaced people from Myanmar awaiting repatriation. Some of the incidents were deadly, while some of them left thousands homeless.
According to the report of the parliamentary committee of the Ministry of Defence, there were 222 fires in shelter camps in 2021, and 99 of these were accidental.
As of February 15, a total of 60 of the incidents were deemed to be sabotage, and the reasons behind 63 of them are still unknown.