Full implementation of CHT Accord: 25 years of life lost waiting, says Santu Larma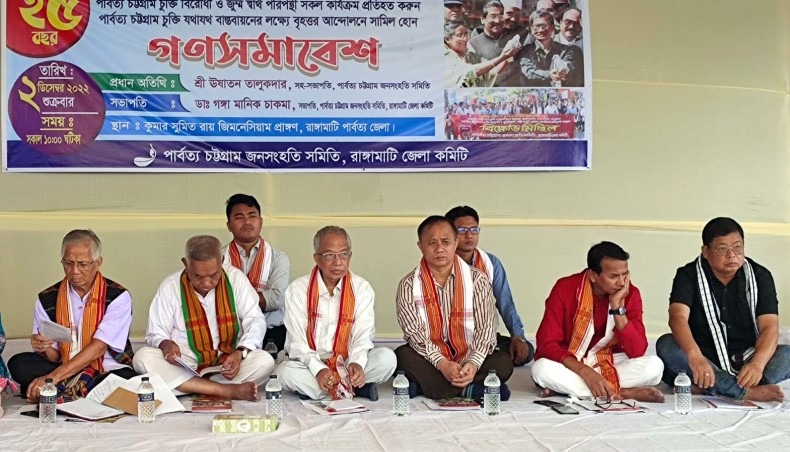 NEWS DESK
Parbatya Chattagram Jana Sanmhati Samiti president Jyotirindra Bodhipriya Larma, better known as Santu Larma, has said that the most precious 25 years of his life had been lost waiting for a full implementation of the Chittagong Hill Tracts Accord.
'My most productive years have been wasted waiting for a complete implementation of the accord. "Rather than pressing for its implementation, we should have celebrated today's accord," Larma lamented.
Larma, also the president of the Bangladesh Adivasi Forum, remarked on Friday (Dec 2, 2022) as the chair of an event at the Liberation War Museum in the capital commemorating the 25th anniversary of the signing of the CHT peace treaty.
Bangladesh Workers' Party president Rashed Khan Menon said that the state's efforts to solve the CHT issues with military force instead of political means remained the main problem.
'All the governments tried to solve the CHT issues, which were essentially political, with military power. A collective political endeavour by all the ethnicities of Bangladesh can convince the government to implement the CHT accord fully,' he observed.
Bangladesh University vice-chancellor Mesbah Kamal blamed the state and successive governments for their unwillingness to implement the accord.
'The committee responsible for implementing the clauses of the accord has met only five times in the past 25 years. The state, as well as the governments, should be held accountable for not implementing the accord fully,' he said.
Rights activists, politicians, and researchers at the event also stressed the importance of united political efforts by both Bengalis and ethnic minorities to compel the government to implement the CHT treaty clauses fully.
Among others, CHT International Commission member Khushi Kabir, Bangladeshi Indigenous Council president Rabindranath Soren, Oikya NAP general secretary Asadullah Tareq, Bangladesh Communist Party general secretary Ruhin Hossain Prince, and poet and journalist Sohrab Hasan spoke at the event.
After the welcome speech by BAF general secretary Sanjeeb Drong, young ethnic minority leaders addressed the event.
Among other young leaders, Bangladesh Adivasi Chhatra Sangram Parishad president Alik Mree and Chittagong Hill Tracts Hill Students Council general secretary Nipon Tripura spoke.
On December 2, 1997, Parbatya Chattagram Jana Sanghati Samiti signed the peace deal with the then Awami League government led by Sheikh Hasina.
Then-Jatiya Sangsad chief whip Abul Hasnat Abdullah signed the agreement on behalf of the government while Santu Larma on behalf of the PCJSS.