KNF main training camp, bases under control: Army chief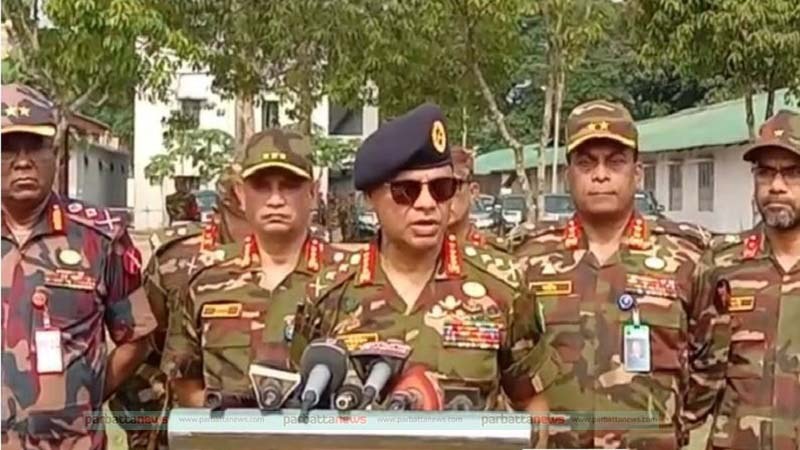 STAFF REPORTER, BANDARBAN, AND BANDARBAN CORRESPONDENT
The main training camp and main bases of the Kuki Chin National Front-KNF have been brought under control in a special army operation in the Bandarban hills, Army Chief General SM Shafiuddin Ahmed has said.
Some members of the group are still scattered, but efforts will be made to clear more areas. The army will continue its operations until terrorist activities cease, and the aim is to eliminate the terrorists soon, he told a press conference held at the army zone headquarters following his visit to Bandarban on Sunday (June 4).
General Ahmed said that if the terrorists voluntarily surrender and express a desire to return to normal life, they will be welcomed. However, he also emphasized that if they choose not to surrender, they will be dealt with severely.
The army chief further added, "Development activities will continue in this region. The Bangladesh Army operates with a humanitarian approach and upholds human rights. However, for the sake of our country, we will take a hard line if needed.
"We welcome anyone who wishes to engage in peace talks as we seek a peaceful solution. Resorting to violence will not lead to a peaceful solution, but if someone provokes violence, we will respond with resistance."
General Ahmed also mentioned that improvised explosive devices (IEDs) have been planted in various locations in the mountains, and measures have been taken to address this threat.
Other attendees at the press conference included Army Chief of General Staff (CGS) Lt Gen Ataul Hakeem Sarwar Hasan, SBP, SGP, NDC, AFWC, PSC, PhD; General Officer Commanding 24 Infantry Division and Area Commander Chittagong Area Major General Mizanur Rahman Shamim, BP, OSP, BAM, NDC, PSC; Major General AKM Nazmul Hasan, Director General, Border Guard Bangladesh (DG BGB); and Ramu GOC Major General Masudur Rahman.