Gambian FM seeks more funds for running Rohingya genocide case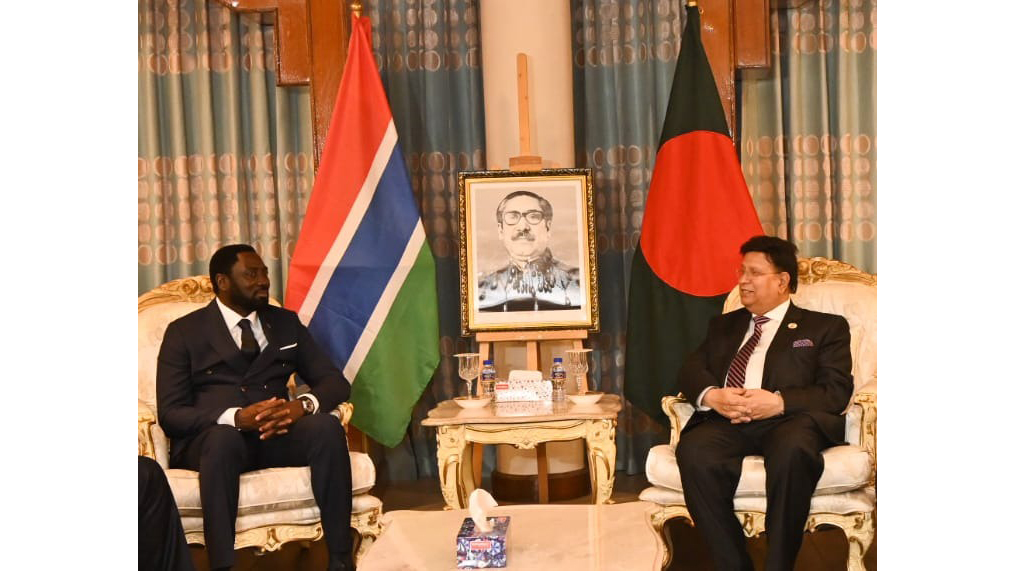 Gambian foreign minister Dr Mamadou Tangara today (Feb 12) hoped that more countries will make contribution to Gambia regarding Rohingya genocide case at the International Court of Justice (ICJ) as the African nation has been facing fund crisis to run the case.
"We need concrete action. Help us to make more noises so that their (Rohingyas) voices can be heard," he told reporters after holding a bilateral meeting with Bangladesh foreign minister Dr AK Abdul Momen at a state guesthouse in Dhaka this evening.
Tangara said the issue of the Rohingya is there to their heart and they will continue their efforts to make sure that the voices of the Rohingyas are heard and they can return to their homeland with dignity.
During the meeting, Momen thanked the Gambian minister for espousing the accountability and justice matters related to the genocide perpetrated by Myanmar against the forcibly displaced Rohingyas.
He also appreciated the continued engagement of The Gambia with the legal team in the case on Rohingya in the International Court of Justice.
The Gambian Foreign Minister Tangara assured of continuing mutual collaboration in working together closely to call for a sustainable solution to the Rohingya crisis, including their safe, dignified and voluntary return to Myanmar.
The meeting called for an acceleration of the ongoing processes of justice and accountability to address the human rights violation against the Rohingya people in Myanmar.
The two ministers committed to further strengthen the long-standing friendly and brotherly relations between the two countries and work towards maintaining peace, justice in the global arena.
Both the ministers agreed to forge cooperation in potential areas including education, agriculture, IT & ICT, trade & investment and people-to-people contacts.
The meeting highlighted the importance of increased dialogue, enhanced economic, political and security cooperation in matters of mutual interest for Bangladesh and The Gambia.
During the meeting, the two ministers also discussed south south cooperation in the context of multilateral framework, close cooperation in agriculture between two countries and global scenario due to Ukraine crisis.
After the meeting, the foreign ministers signed a joint declaration agreeing on, among other issues, the co-deployment of the Bangladeshi and the Gambian armed forces at the UN peacekeeping missions.
Earlier in a meeting at the Armed Forces Division, both sides discussed the modalities of such co-deployment.
The Gambian foreign minister who is visiting Bangladesh as Special Envoy of the President of The Gambia, delivered a lecture on the foreign policy of The Gambia at the Foreign Service Academy (FSA) as part of Bangabandhu Lecture Series earlier in the afternoon today.
Tangara is leading a six-member high level delegation including the Gambian Defence Minister.
The high-level delegation visited Rohingya camps in Cox's Bazar during the last weekend.