Israel lays total siege to Gaza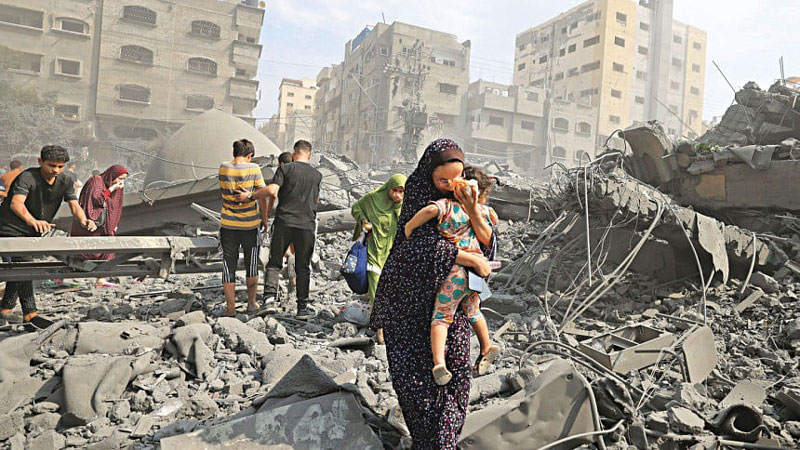 Israel imposed a total siege on the Gaza Strip on Monday and cut off utility supplies as it kept bombing targets in the crowded Palestinian enclave in response to the Hamas surprise assault, global news agencies report.
Reeling from the Islamist group's unprecedented ground, air and sea attacks, Israel has counted over 800 dead and launched a withering barrage of strikes on Gaza that have killed 560 people there.
The skies over Gaza were blackened by plumes of smoke from deafening explosions as Hamas kept launching rockets as far as Tel Aviv and Jerusalem, where missile defence systems fired and air raid sirens blared.
Hamas — whose militants surged into Israeli towns on Saturday, spraying gunfire at civilians and dragging off about 100 hostages – on Monday claimed that Israeli air strikes had killed four of the captives.
It also threatened to kill hostages if the air strikes on Gaza continues.
The Israeli military said it had called up an unprecedented 300,000 reservists for its "Swords of Iron" campaign and was imposing a total blockade of the Gaza Strip, signs it could be planning a ground assault there to defeat Hamas.
In a further sign of Israel's rapid shift onto a war footing, a cabinet member from Prime Minister Benjamin Netanyahu's Likud Party said it could set up a national unity government joined by opposition leaders within hours.
Israeli truck convoys were seen moving tanks to the south near the Gaza border.
"We are in control of the communities [attacked by Hamas]," said military spokesman Daniel Hagari, cautioning that some "terrorists" may remain after about 1,000 militants had swarmed into the region on the Jewish Sabbath.
Defence Minister Yoav Gallant said Israel would impose a "complete siege" on the long blockaded enclave and stressed what this meant for its 2.3 million people: "No electricity, no food, no water, no gas — it's all closed."
Palestinians in the impoverished coastal territory braced for what many feared would be a massive Israeli ground attack aiming to defeat Hamas and liberate the hostages.
Netanyahu has warned Gaza civilians to get away from all Hamas sites, which he vowed to turn "to rubble".
The Israeli PM told mayors of southern towns hit by the surprise assault that Israel's response would "change the Middle East".
Tensions have spiked as Israel's arch-enemy Iran and their Lebanese ally Hezbollah have praised the Hamas attack, although Tehran rejected any role in the military operation.
"The military operation is still continuing," Hossam Badran, a Hamas official, told AFP from Doha, adding that "there is currently no chance for negotiation on the issue of prisoners or anything else".
The United States has pledged "rock solid" support for Israel and said it would send munitions and military hardware to its key ally and divert an aircraft carrier group to the eastern Mediterranean.
Meanwhile, Russia on Monday expressed deep concern about recent events in Israel and the Palestinian Territories, saying the situation could escalate into a wider conflict in the Middle East.
China, expressing deep concern, said it opposes actions that escalate the conflict.
The Arab League said its foreign ministers will hold an "extraordinary meeting" on Wednesday to discuss "Israeli aggression on the Gaza Strip".
Meanwhile, in a surprise move, the EU on Monday halted development aid payments to the Palestinians and said it was placing 691 million euros ($728 million) of support "under review".
On Monday, the Israeli army said its soldiers had "killed a number of armed suspects" who had crossed the border from Lebanon and that Israeli helicopters were striking targets in the area.
A local Lebanese official told AFP Israel was shelling the southern border area while Hezbollah denied involvement in clashes or "any infiltration attempt" into Israel.
Among the hostages Hamas took back into Gaza were children and a Holocaust survivor in a wheelchair, Israeli officials have said.
Up to 250 bodies were strewn across the site of a music festival in a Negev desert kibbutz, mostly young people, and charred car wrecks were piled up in a sign of the panicked rush to escape, while other revellers were feared to be among the hostages.
"They butchered people in cold blood in an inconceivable way," said Moti Bukjin of the Zaka religious volunteer group which helped collect the human remains.
Beside Israelis, foreign or dual nationals have been reported killed, abducted or missing by countries including Brazil, Britain, Cambodia, Canada, France, Germany, Ireland, Mexico, Nepal, Panama, Paraguay, Thailand, Ukraine and the United States.
The situation was also dire inside Gaza, which has been blockaded by Israel since Hamas assumed control there 15 years ago.
Air strikes have levelled residential tower blocks, mosques and the central bank. More than 120,000 people in Gaza have been displaced, said the United Nations.
Palestinians in the occupied West Bank have rallied in support and clashed with Israeli security forces, leaving 15 Palestinians dead since Saturday.
Anti-Israel activists have demonstrated in Lebanon, Iraq, Pakistan and elsewhere while security was stepped up around Jewish temples and schools worldwide.
Meanwhile, the Palestinian embassy in Dhaka on Monday said Palestinians have every right to resist oppression, violence and racist practices of the illegal Israeli occupation.
"The Israeli government must refrain from bombing civilians, including women and children in Gaza, and inciting violence and tensions in the occupied West Bank, including East Jerusalem, and especially around religious sites," the embassy said in a press release.
The spiralling conflict has sent shock waves around the world amid fears of a wider escalation, sparking a surge in oil prices on fears of tightening supplies.