Japan, IOM sign $5.7 million assistance to Rohingyas, host communities in Bangladesh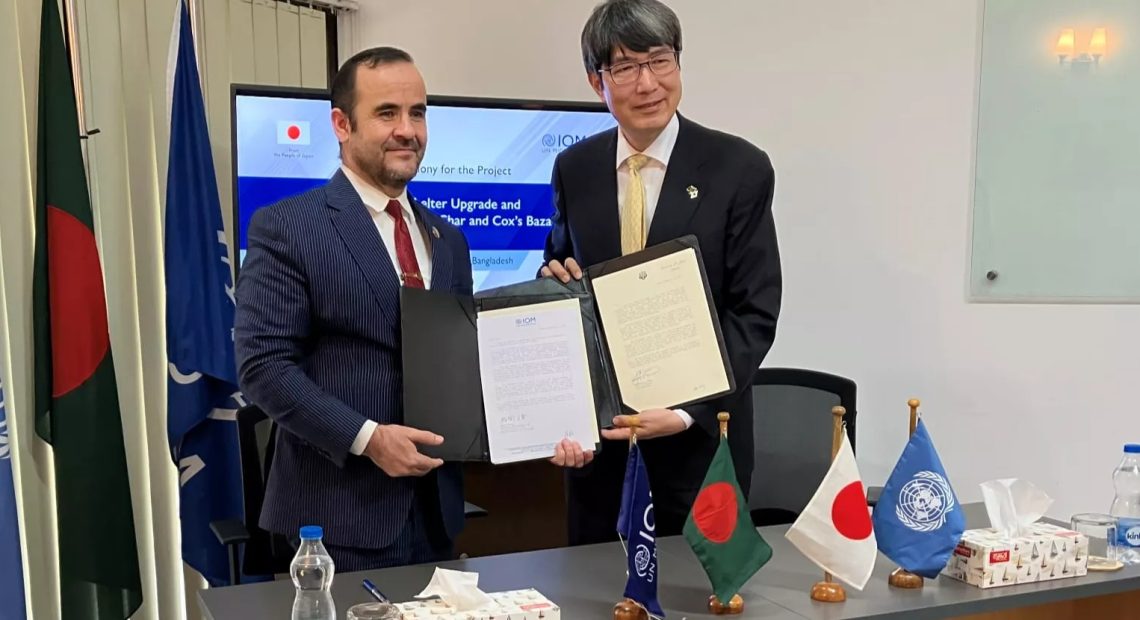 Japanese Ambassador to Bangladesh Iwama Kiminori on Monday said Japan would continue to work towards durable solutions including early repatriation of Rohingyas to Myanmar, while cooperating with international organizations including IOM for better living conditions for refugees and host communities.
Finding durable solutions in this crisis will be conducive to our pursuit of a Free and Open Indo-Pacific," he said.
The government of Japan has decided to provide the International Organization for Migration (IOM) US$ 5.7 million assistance for upgrading shelters and improving living conditions of Rohingya and host communities in Cox's Bazar and Bhasan Char.
An exchange of notes was signed by Ambassador of Japan to Bangladesh Iwama and Chief of Mission of IOM Bangladesh Abdusattor Esoev on Monday.
Iwama expressed his hope that the support from government of Japan would improve living conditions of both Rohingya and host communities.
"During my last visit to Cox's Bazar last month, I was impressed by the tireless activities of IOM including the Rohingya Cultural Memory Centre run by IOM," he said.
As the Rohingya crisis continues into its sixth year, the international community should not forget this vulnerable population, who still face an uncertain future, Esoev said.
"We are very grateful to the government of Japan for their continued support which enables IOM Bangladesh to provide ongoing lifesaving assistance to vulnerable Rohingya and Host Communities in Cox's Bazar and Bhasan Char. This support will ensure access to better settlements, protection, and livelihood opportunities," he said.
The Rohingya and host communities in Cox's Bazar face significant challenges due to the lack of sufficient shelters where their privacy, security, protection and dignity are at risk, said the Japanese Embassy in Dhaka on Monday.
Also, in Bhasan Char, opportunities for livelihood such as aquaculture, small livestock rearing, vocational and life skills training need to be further increased, it said.
The project, titled 'The Project for Promoting Shelter Upgrade and Community Building in Bhasan Char and Cox's Bazar District', will enable more than 34,000 people in the Cox's Bazar Camps and host communities to have increased access to safe spaces, protection and psychosocial activities, and more than 11,500 households to receive shelter upgrade and maintenance support.
The project will also improve living conditions for camp residents through enhanced Site Management and Site Development (SMSD) works.
The project will strengthen the self-reliance of Rohingya, especially women and youth, through improved livelihood opportunities in Bhasan Char.