Junta watch: Yet another top-level trip to Russia; ex-UK envoy becomes a 'hostage'; and More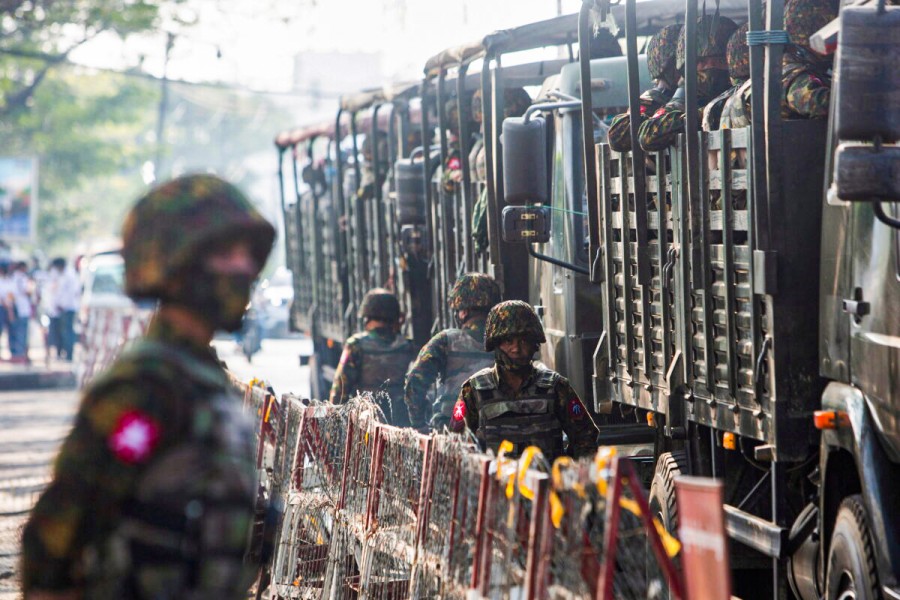 NEWS DESK
As the regime grapples with escalating military tensions in Rakhine State in western Myanmar, active fighting on multiple fronts elsewhere and a deepening economic crisis, deputy junta leader Soe Win visited Moscow from Aug. 26-28 on his second visit to Russia, The Irrawaddy reports.
Soe Win visits Russia amid deepening ties
As the regime grapples with escalating military tensions in Rakhine State in western Myanmar, active fighting on multiple fronts elsewhere and a deepening economic crisis, deputy junta leader Soe Win visited Moscow from Aug. 26-28 on his second visit to Russia.
During his visit to attend the closing ceremony of the International Army Games-2022 held in Moscow, Soe Win also met with Russian Deputy Defense Minister Colonel General Alexander Fomin. The two sides discussed plans for future cooperation and enhanced military ties, according to junta newspapers.
No doubt, the purchase of arms, potential Russian investment in Myanmar—as well as the Russian fuel that Min Aung Hlaing recently said is on its way—were likely on the agenda. In response to a growing fuel crisis and price hikes, the regime in August formed a committee to import fuel from Russia, and Min Aung Hlaing has told the Myanmar people not to worry about shortages, assuring them a large shipment will arrive from Russia this month.
US senators have called on Washington to come up with a response to the growing Myanmar-Russia ties, and to impose economic sanctions against state-owned Myanmar Oil and Gas Enterprise, the military regime's largest source of foreign revenue.
Soe Win last traveled to Moscow in September last year to attend the closing ceremony of the International Army Games-2021.
Junta powerless to tackle rising gold, falling kyat 
To bring down rising gold prices in the domestic market, the regime announced Thursday that it would start selling gold coins to the public the following day. In Yangon on Friday, however, some 400 people queued in vain at a gem trading center only to be told that vendors had not yet received permission from officials in Naypyitaw to sell the coins.
The regime announced its plan to sell gold coins of one tical and 0.5 tical at the official reference rate, which is around 2.2 million kyats per tical, on Thursday evening after gold prices hit 3.7 million kyats per tical for 24K gold on Wednesday. Gold prices declined to 2.9 million kyats per tical early Friday on news of the planned sale, but had bounced back to 3.1 million kyats by the evening.
The price of gold has been rising since the military coup in February last year. In January 2021 the price was just slightly over 1.3 million kyats.
The tactic of selling coins was also used when gold prices soared under previous military regimes. The prices declined for a while after a maximum of two gold coins were sold to each buyer, but prices went up again later. So, it is obvious that it won't work.
At the same time, the exchange rate declined slightly on Thursday from more than 4,000 kyats per dollar after the regime said it would inject US$200 million into the foreign currency market. Before the coup, the exchange rate was slightly over 1,300 kyats per dollar.
The regime has already sold over $500 million since the coup, but that has failed to prevent Myanmar's currency from falling steeply to over 4,000 kyats per dollar. People have therefore criticized the junta's latest move as a mere short-term solution.
Alternative propaganda channels sought
The junta-controlled Ministry of Information on Friday announced a plan to create a homegrown substitute for YouTube—a video sharing and livestreaming platform it calls Mtube.
The information minister, former Major General Maung Maung Ohn, said his ministry has created Mtube because the regime "is being bullied by those with technological superiority." According to him, Mtube was invented by Myanmar technicians and will be available soon.
Virtually banned from the internet, the junta is apparently desperate for alternative social media platforms to spread its propaganda.
Last month, junta spokesman Major General Zaw Min Tun revealed the regime's plan to ban Facebook, which is synonymous with the internet in Myanmar, and replace it with a homegrown social media platform. Facebook barred Min Aung Hlaing in 2018; since the coup it has also taken down the official page of the Myanmar military, along with the accounts of senior military leaders as well as their mouthpiece media.
The regime is amending the Cybersecurity Law to include a punishment of three years in prison for using a virtual private network (VPN) to access the internet, in particular Facebook.
In May, the regime launched an app named after state propaganda broadcaster Myanmar Radio and Television (MRTV), aiming to livestream the regime's broadcast content via international satellites and to distribute articles from its state-run media. But the app did not survive long, and was removed from Apple's App Store and the Google Play Store the following day. So, it will be interesting to see how long Mtube survives.
Ex-UK ambassador, husband become pawns in junta's game
The junta sentenced former Brnitish ambassador Vicky Bowman and her artist husband Ko Htein Lin to one year in prison on Friday for breaching the Immigration Act in what is nothing more than an act of diplomatic hostage-taking in response to the international pressure against it. The former diplomat was convicted of not living at the address she had registered with the authorities, while her husband was jailed for failing to report that she was staying somewhere else.
Bowman's sudden arrest on the immigration charge after having lived in Myanmar for nearly 10 years was suspicious. The couple's arrests also came at a time when diplomatic relations between Myanmar and Britain are at an all-time low following the regime's expulsion of the head of the UK Embassy in July after he declined to present his credentials to the regime. They also coincided with Britain's recent imposition of sanctions against a company run by the junta chief's son. Even more embarrassing for the junta, the sanction was aimed at impacting a case currently before the International Court of Justice to determine whether the Myanmar military committed genocide against the Rohingya ethnic minority.
Prior to the arrests, in comments probably aimed at the UK, junta chief Min Aung Hlaing responded to the UN special envoy's request that detained Australian economist Sean Turnell be released by saying that if the Australian government had acted more positively, Turnell's case wouldn't have become so serious. The regime was annoyed by Canberra's replacement of its ambassador to Myanmar with a lower-ranked representative in a downgrading of diplomatic ties intended to avoid legitimizing the military regime.
The junta arrested the economist after the coup and charged him with possessing state secrets. The regime boss said "severe penalties could be imposed" in his case.