Khagrachari Army Region celebrates 47th founding anniversary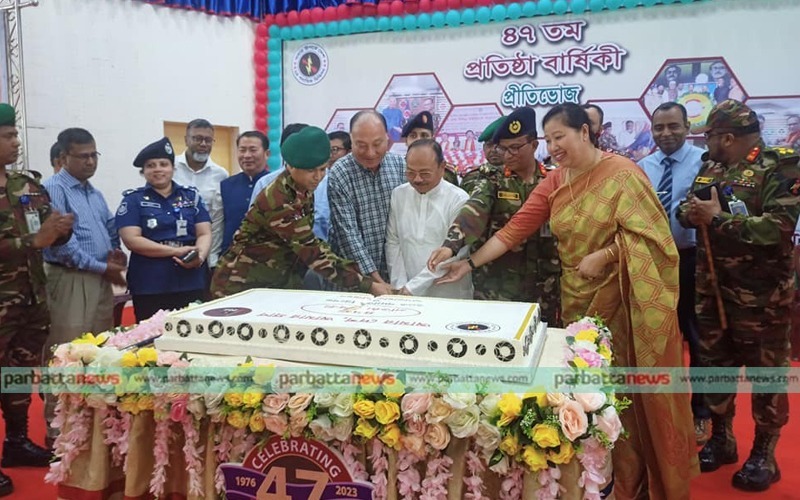 STAFF CORRESPONDENT, KHAGRACHHARI
Khagrachari Army Region and the Headquarters 203 Infantry Brigade celebrated the 47th founding anniversary with grandeur and vibrant festivities.
The celebratory event took place on Wednesday at noon in the Khagrachari Cantonment.
The ceremony was presided over by the Khagrachhari Region Commander, Brigadier General Mohammad Mohtashim Haider Chowdhury.
The chief guest for the occasion was Kujendra Lal Tripura MP, representing the task force for the resettlement of refugees who returned to India, holding a rank equivalent to a state minister.
In his address, MP Kujendra Lal Tripura praised the Bangladesh Army's continuous efforts in realising the dream of Bangabandhu Sheikh Mujibur Rahman, the paramount architect of freedom and father of the nation.
He expressed hope that the army would continue to be an unwavering pillar of support for the country, just as it had been in the past.
Mr Tripura also commended the army's dedication to ensuring the safety of the Chittagong Hill Tracts and its role in uplifting the socio-economic conditions of the region.
Dipankar Talukdar, President of the Standing Committee on Food Ministry Affairs and Member of Parliament for Rangamati Constituency; Basanti Chakma, Member of Parliament for Reserved Women Constituency; Brigadier General Kamal Mamun, Commander of Guimara Region; Mangsuiproo Chowdhury Apu, Chairman of Khagrachari Hill Zilla Parishad; Angsuiproo Chowdhury, Chairman of Rangamati Hill Zilla Parishad; Colonel Md. Jahangir, BGB Khagrachari Sector Commander; Mohammad Sahiduzzaman, Khagrachari Deputy Commissioner; Mukta Dhar, District Police Superintendent; and  Sachingpru Chowdhury, Mong Circle Chief, along with various military officials, civil officers, public representatives, and representatives from civil society, graced the event.
The invited guests share their joy by cutting a cake marking the 47th founding anniversary of the Khagrachari region.