DIGHINALA FLOOD: Thousands waterlogged, facing clean water shortage and disease outbreaks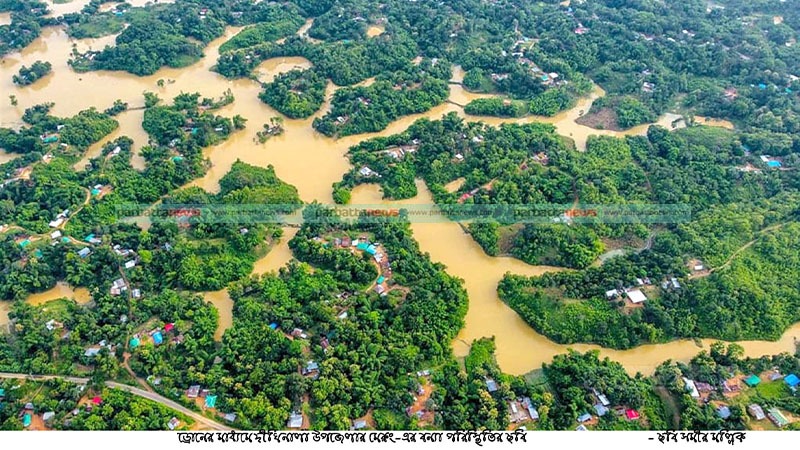 DIGHINALA CORRESPONDENT, KHAGRACHHARI
Continuous heavy rainfall has led to the inundation of the lower regions of Dighinala upazila in Khagrachari for the past four days. Numerous families, numbering in the thousands, find themselves trapped in the rising waters. The flood-affected populace is grappling with severe shortages of freshwater and the outbreak of various waterborne diseases. The once-productive Aman and Aush fields, along with countless ponds, now lie submerged beneath floodwaters. In Merung Bazaar, many businesses remain submerged, and hundreds of families have sought refuge in shelters. Boats have become the primary mode of transportation in this crisis.
In response, Kujendra Lal Tripura MP, Chairman of the Hill Refugee Affairs Task Force, has taken action by distributing relief aid to the flood-affected families within the Merung Union of Dighinala Upazila. Concurrently, the army is diligently extending relief support to the affected areas while also offering crucial medical assistance.
Shahadat Hossain, Agricultural Officer of Dighinala Upazila, said that a staggering 453 hectares of Aman and 28 hectares of Aush land have fallen victim to the floods. Additionally, approximately 18 hectares of seedbeds have been decimated by the surging waters. The toll on farmers is substantial, with around one and a half thousand incurring losses within the upazila.
Major Nafiz, Acting Commander of the Army's Dighinala Zone, said, "As long as the flood situation persists, the army will continue to provide periodic relief and medical assistance."
Mohammad Arafatul Alam, Dighinala Upazila Nirbahi Officer, said that a substantial allocation of 15 metric tons of food grains has been earmarked to aid those affected by the flooding.
Maksudur Rahman, Executive Engineer of the Khagrachari Road Division, highlighted the extensive damage caused by the relentless days of rainfall.
Several roads under the Khagrachari-Chittagong road division have suffered considerable damage, with landslides occurring in various locations, particularly on the Dighinala-Baghaihat-Marishya road. Water damage has further compromised road integrity. Initial efforts involve mobilizing teams to keep roads operational, although the full extent of the destruction is yet to be fully assessed, he said.