Lt Col Kamrul stresses education for societal and national good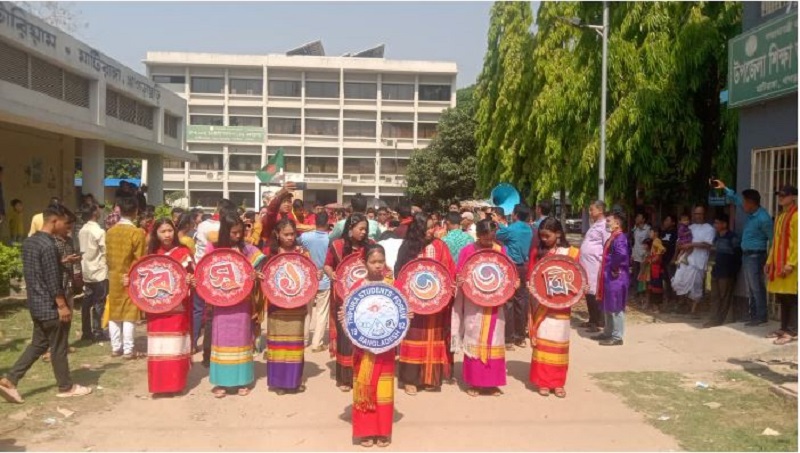 MATIRANGA CORRESPONDENT, KHAGRACHHARI
Khagrachari's Matiranga Zone Commander Lt. Col. Kamrul Hasan, PSC, has urged for getting educated for the good of society and the country.
"We have to be educated for the good of society and the country. Poverty cannot stifle the willpower of man. People get the education and achieve goals if they have strong willpower," Lt Col Hasan stated.
The Bangladesh Army has emerged as the only reliable supporter and symbol of development, ensuring uninterrupted access to quality education in the hill tracts, and making education faster and stronger in the region, he said.
The Army stands by to help all the underprivileged students keep the wheel turning toward improving the quality of education in the hilly areas in the future, Lt Col Hasan further said.
He was speaking as the chief guest at a discussion organised by Matiranga Tripura Student Forum on the occasion of Tripura's traditional Baisu (New Year – 1433 Bengali) on Saturday (April 8) morning.
Earlier, BTKS Central Committee Vice-President Hiranjoy Tripura inaugurated the Barnil Baisu procession by releasing pigeons into the sky on the upazila premises.
The procession then proceeded along the main road of Matiranga, reaching the upazila central Shaheed Minar where the New Year was welcomed with Garia dance.
Senior officials, as well as professionals from different fields, enjoyed the dance, and a discussion meeting was organized in the Upazila Auditorium.
Matiranga Tripura Student Forum President Dolly Tripura presided over the discussion.
Meanwhile, in collaboration with Matiranga Sena Zone and under the supervision of Tripura Student Forum, textbooks and educational materials were distributed among the underprivileged students.