Marma couple beaten bloody by JSS terrorists in Kaptai's Raikhali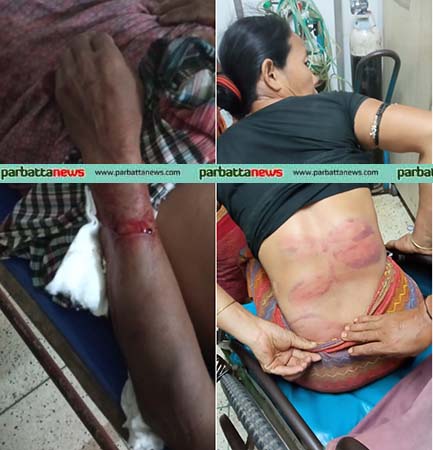 KAPTAI CORRESPONDENT
A Marma couple has been beaten bloody by an armed group of JSS terrorists in Sitapahar area of Raikhali union in Kaptai upazila of Rangamati.
The incident took place at 7 pm on Thursday (May 12).
The tribal couple – Chinanjo Marma (38) and her husband Thoichai Marma – are currently undergoing treatment at Chandraghona Christian Hospital.
The couple's son Swihla Ching Marma said, "Around 7.30 pm on Thursday, a group of six terrorists wearing green clothes came to our shop with weapons and sticks, beat up my parents and left immediately."
"Soon after their leaving the scene, we rushed our parents to Chandraghona Christian Hospital, where they are now undergoing treatment," he said.
On-duty doctor Dr Rajiv Sharma said Thoai Chai Marma has suffered a bone fracture on the chest and a wound on the left hand. Besides, his wife has suffered a groin injury.
Another on-duty doctor Joy Sen told the Parbatta News around three hours later at 10.30 pm on Thursday: "An injured Marma couple has been brought here this evening. The wife has many injury marks on the back, while her husband is bleeding from his left hand.
"We thought that the husband has his hand fractured, but the x-ray shows no such thing. However, he has a chest bone fractured. His condition is not that good. The surgeons will decide tomorrow whether to treat him here or to refer him elsewhere for better treatment."
Md Salim, the member for Ward No 1 of Raikhali Union Parishad, said, "I have come to know about the incident through the couple's family. However, I don't know who attacked them."
Chandraghona Police Station OC Iqbal Bahar Chowdhury told this correspondent that they are aware of the incident and have sent a team of police to the scene to see to the incident.
However, none has yet officially complained to the police about this, he said, adding that they will legally act once a complaint is filed.
A local source seeking anonymity said that the attackers were JSS terrorists. The attack was led by Ukyasing Marma Babu (32), a JSS commander who is son of Mongsuyu Marma of Dolupara in Raikhali union of Kaptai.
The attackers led by Babu were at least 15 in number, according to the source.
Among the attackers were Johnny Marma, Ningthoai Marma, Mefa Marma, Thoaisuinung Marma, Alumang Marma (Koiya), Labrasai Marma (Labu), and Amaralendu Tanchangga, the source further said.