'Peaceful CHT for a peaceful Bangladesh': Speakers at rally demand full implementation of Peace Accord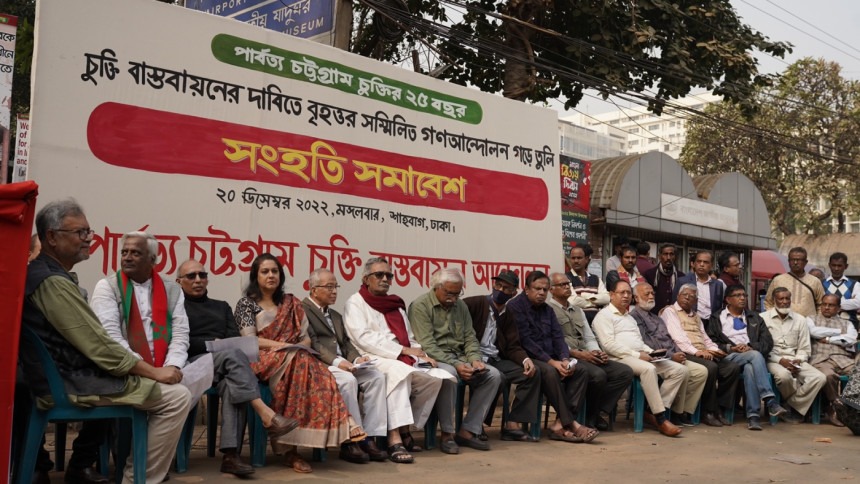 NEWS DESK
Peace cannot be ensured in Bangladesh unless the Chattogram Hill Tracts (CHT) are in peace, said speakers at a rally on Tuesday, Dec 20, 2022.
Full implementation of the CHT accord can bring peace for the hill-tracts people, and for all citizens too, they added.
They were addressing the rally at Shahbagh after participating in a mass procession that started from Jatiya Shaheed Minar on the occasion of 25 years of CHT accord's signing (December 2, 1997).
The accord was signed between the government and Parbatya Chattogram Jana Sanghaty Samity (PCJSS).
The demonstrations were arranged as part of a combined movement for full implementation of the accord. Different political parties, and social- and human-rights organisations from the hill tracts and plain land participated.
Rashed Khan Menon, president of Workers Party of Bangladesh, said the responsibility of implementing the accord not only lies with the CHT people but also with all Bangladeshis.
"We are witnessing the consequence of not implementing the accord. Armed groups, created with special assistance of influential quarters involved in militant activities, started militant training. Those militants hinder our peace and development inside Bangladesh," Menon said.
It proves that peace is not only important to hill people but also vital for the whole country, he said.
Menon said if Bangalees and ethnic people do not wage a combined movement, full implementation of the accord will not be possible.
Ushatan Talukder, vice president of PCJSS, said, "A suffocating environment is prevailing in CHT. Rule and exploitation witnessed in the British era are still present in the hills. People are forced to live there in extreme insecurity."
He thanked political parties, and social- and human-rights organisations for starting a combined movement to implement the accord. "A new dimension has been added through this movement."
Lawmaker Fazle Hossain Badsha, convenor of parliamentary caucus on indigenous affairs, said signing the accord and then bringing outsiders into CHT to make the indigenous people a minority group is treachery.
Ruhin Hossain Prince, general secretary of Communist Party of Bangladesh, said indigenous people were not recognised in the Constitution formulated in 1972.
The accord's implementation has been neglected by denying the identity of indigenous people, he added.
Syeda Rizwana Hasan, executive director of Bangladesh Environmental Lawyers Association, demanded justice for all incidents of human-rights violations after signing of the accord, and constitutional recognition of indigenous people.
Rajekuzzaman Ratan, assistant secretary of Socialist Party of Bangladesh; Asaduzzaman Tareq, general secretary of Oikya NAP; Shamsul Huda, executive director of Association for Land Reform and Development; and Rokeya Kabir, executive director of Bangladesh Nari Progati Sangha, also spoke at the event chaired by Zakir Hossain, joint-coordinator of CHT Accord Implementation Movement.
The implementation movement raised a five-point demand at the rally. The points include implementation of the accord by formulating a schedule-based action plan, and permanent end to direct and indirect military rule in the hills.