'Please help me retain my mouza land rights': Sajek daughter makes impassioned plea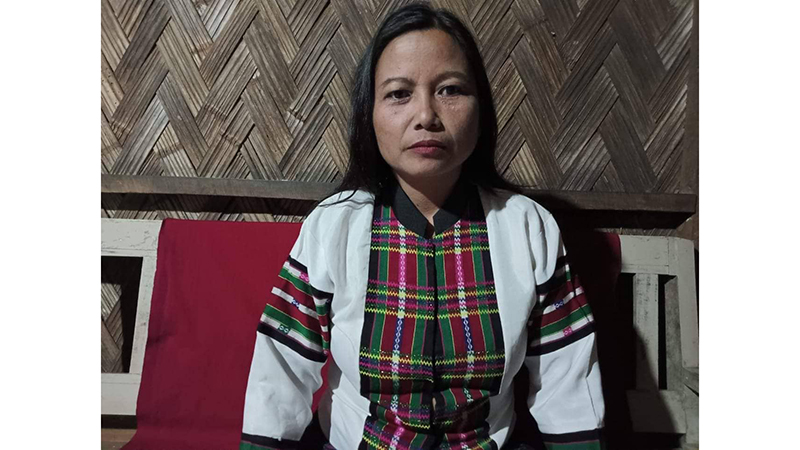 BETHLEHEM PARI PANGKHUA
I am Bethlehem Pari Pangkhua, daughter of late Rual That Pangkhua, who served until death as headman of 171 no Betling Mauza, Sajek, Baghaichari Upazila, Rangamati hill district.
We are two brothers and two sisters. As my brothers are not educated, my family asked me to go for the post of headman which fell vacant with my father's death. I submitted my application to the Rangamati Chakma circle chief on 5 February, 2021. Later on 16 August, 2021, I submitted my application to Rangamati district administrator and on the very same day (16 August, 2021) to regional council.
But it's very shocking and saddening that Mr Dahindralal Tripura, son of Mr Dirjamani Tripura has been recommended for the post. A letter has also been sent to Rangamati district administrator by Chakma circle chief and Regional council about this.
However, Mr Dahindralal Tripura is not my father Rual That Pangkhua's son, descendant, or relative of any kind. He is of another caste and a resident of Mashalong Mauza, which is at least 40 kilometers away from our Betling Mauza. Moreover, we had not permitted him to apply for the post of headman which fell vacant with the death of my father. Without our consent, he applied for that post.
The Chakma circle chief and regional council have accepted Mr Dahindralal Tripura's application and have sent a recommendation letter to the Rangamati district administrator to appoint him to the vacant headman post. Though I am a candidate for that post and a daughter of the immediate past headman, neither the Chakma circle chief nor the regional council felt the need for notifying me about this. I have no idea how they could do it without informing or consulting us, the family of the immediate past headman.
We came to know about this letter – from Chakma circle chief and Regional council – when the district administrator sent that to the Baghaichari UNO.  Having got the letter from the UNO on 9 june, 2022, we went to his office for the hearing. In that hearing, the Baghaichari UNO and Baghaichari OC were present, among many others. There the Baghaichari UNO and the Baghaichari OC asked Mr Dahindralal Tripura: "Why did you apply for the headman post of Pangkhua when you are a Tripura?" He couldn't give any justifiably correct answer.
Though Chittagong Hill Tracts' rule of law from the 1900s doesn't mention it but on the basis of the customary law, if a headman or karbari of Chittagong hill tracts passes away, his son or daughter will be the next in line to be the headman as his descendant. That the fit and worthy child of his/her father's will be appointed to the vacant post is the custom here. In some cases, after the husband dies, the wife is appointed to the headman post. In the meantime, there are a total of 14 women headmen and 517 women karbari in three hill districts. These women headmen and karbari have fulfilled their duties smoothly and proved their ability.
Mr. Chongbiala Pangkhua was the first headman of 171 No Betling Mouza. And since 1915, he and his descendants have been headmen of the Mouza respectively until the passing of Rual That Pangkhua. After Chongbiala Pangkhua, his son Lalchata Pangkhua was the headman, after that his son Changming Thanga Pangkhua, after that his son Chhan Ngama Pangkhua and after that his son (my father) Rual That Pangkhua. They were headmen for generations hereditarily. After my father Rowal That Pangkhua's passing I should be the next in the succession as an educated and qualified daughter. Hereditarily my family have been serving and performing their duty as headman for generations. Therefore, I have a family customary claim to serve as headman. Besides, I have firsthand knowledge about how to do this job which I have gathered while helping my father with his long-term role as headman. Moreover, if all these women can perform their duty as headmen and karbari, why can't I?
Due to the conspiracy of some quarters, if the Pangkhua Betling Mauza happens to lose its authority to Mr. Dahindralal Tripura, our family may face eviction from our Mauza land. Or we may face some kind of troubled treatment that may ultimately force us to be evicted from where we are now. At this point I and my family are constantly living in fear and pain. Besides, we may lose our family's hundred years of ancestry remembrance, culture as well as birth land. And so, to save my family's heritage and honour I am running from that Sajek's inaccessible place to Rangamati district headquarters correlated offices to various personnel and shedding my tears. But there is no one there who can assure me to get back my right.
At this point I am desperately urging Rangamati district administrator, Chittagong divisional commissioner and everyone related to the ministry of lands for delivering the right judgement. I want to hold onto my family's heritage at any costs and want to be appointed as the headman of my birth land 171 Betling Mauza. Please, help me. I and my family will be grateful to you forever.
The writer is Bethlehem Pari Pangkhua, daughter of late Rowal That Pangkhua, headman, 171 Betling Mauza, Sajek, Baghaichari, Rangamati