Police file chargesheet against 29 over murder of Rohingya activist Mohib Ullah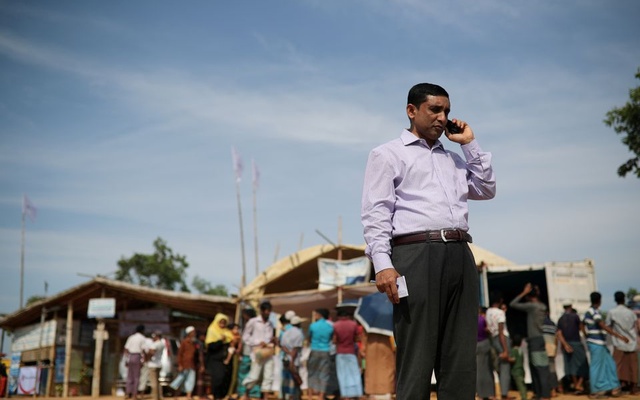 NEWS DESK
Cox's Bazar district police have lodged a charesheet in the murder case of Rohingya leader Mohammad Mohib Ullah  after an eight-and-a-half month investigation.
Cox's Bazar Additional Superintendent of Police Rafiqul Islam said the chargesheet was lodged with the district's senior judicial magistrate's court on Monday afternoon. A total of 29 people have been charged in the case, all of them Rohingya.
On the night of September 29 last year, a group of gunmen shot dead 48-year-old Rohingya leader Mohammad Mohib Ullah  at the 1-East Lambsia camp in the district's Ukhiya upazila.
He was chairman of the Arakan Rohingya Society for Peace and Human Rights, a Rohingya organization. Mohib Ullah , a schoolteacher in the Maungdaw area of Myanmar's Rakhine state, was known in the Western media as the "voice of the Rohingya."
Investigators said that despite receiving information about the involvement of a total of 36 people in the murder, the address and location of seven people could not be ascertained and in the end 29 people were charged in the court.
Of the 29 accused named in the chargesheet, 15 have been arrested and are currently in jail, while the remaining 14 are fugitives. And of the arrested, four have given confessional statements under Section 164 in court during the investigation.
Quite a few years ago, Mohib Ullah , along with his family, came to Bangladesh from Myanmar and started residing in the Rohingya camp. It was there that the Arakan Rohingya Society for Peace and Human Rights (ARSPH) was founded.
For the Rohingya, Mohib Ullah  was a man with an unrelenting dream of returning home. Over the past few years, he had been transplanting that dream among the millions of people who have fled to Bangladesh in the face of mass persecution leaving behind all they had in Myanmar.
Mohib Ullah 's relatives and followers claimed that it was the dream of returning home that cost him his life. A section of the Rohingya does not want to return to their home country. Many in the camp also believe that the armed group that killed him has been in "contact with Myanmar's government forces".
Mohib Ullah  used to live in D-7 block of 1-East Lambsia Rohingya camp in Cox's Bazar's Ukhiya. He came in the spotlight in 2019 when he met with then-US President Donald Trump. He also represented the Rohingya at the UN Human Rights Organization in Geneva.