Rohingya camps: Bangladesh army may join drive to curb crimes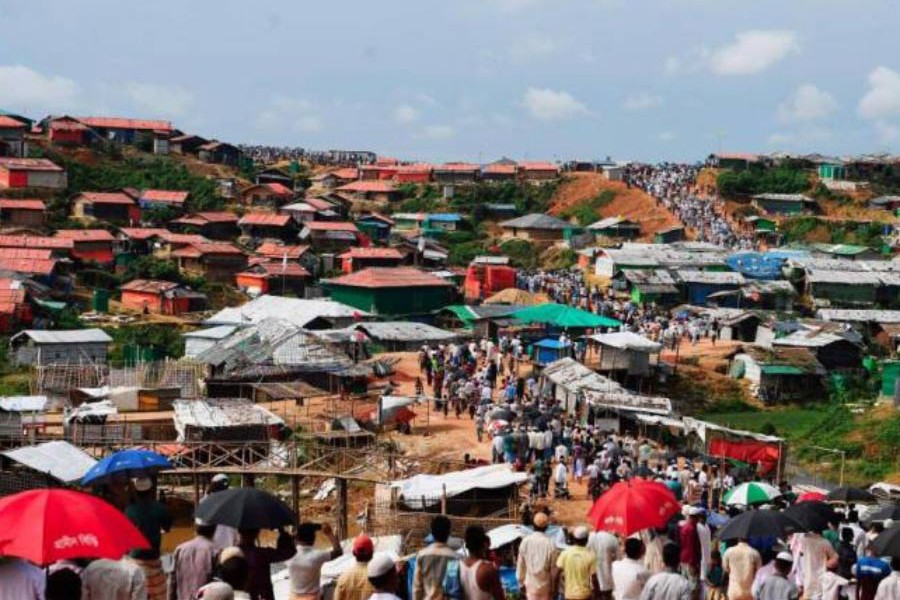 NEWS DESK
The government has decided to intensify joint operations in and around the Rohingya camps in Cox's Bazar to curb criminal and terrorist activities in the shelters and it would engage the army in operations, if needed.
'If necessary, we will launch joint operations and patrol duty, based on specific information, involving the army, BGB, RAB, police and Ansar in and outside of the camps,' said Home Minister Asaduzzaman Khan after a meeting of the committee that reviews the safety and security of the displaced Rohingya community on Sunday, Aug 28, 2022.
The home minister chaired the committee meeting.
As the government noticed terrorist activities and drug smuggling from Myanmar and saw bloodshed without any (apparent) reason, the committee has decided to launch 'information-based' operations to curb 'terrorist activities', the minister said.
The meeting also decided to intensify operations to curb drug smuggling in and around the camps.
Abduction, killing, rape, use of firearms and drug peddling have emerged as major concerns in maintaining law and order in the Rohingya camps in Cox's Bazar district.
Cox's Bazar district police statistics show that 2,363 cases were filed between August 2017 and July 2022 against 4,979 Rohingya people.
Of the cases, 1,601 were filed against 2,207 people in connection with drug possession, 95 against 431 people over murders, 84 against 124 people over rape or attempted rape allegations and 39 cases against 191 people on charges of abductions.
Until August 2022, police arrested 1,846 people in 1,470 cases against which they seized at least 1,42,54,500 yaba tablets, among other drugs.
In the past five years, at least 386 people have been arrested in 190 arms-related cases while 239 locally and foreign-made firearms, 996 bullets and 12 magazines have been seized.
APBn statistics show that 39 Rohingyas have been murdered since July 2020.
At least 278 Rohingyas were abducted and later rescued between July 2020 and August 20, 2022, APBn statistics also show.
Officials serving in APBn command posts, Rohingya youth leaders as well as rights activists in Dhaka and Cox's Bazar say that  frustration over their non-repatriation to Myanmar, lack of job opportunities and absence of transparency in the selection or election of Rohingya youth leaders, among others, are key reasons Rohingya youths get involved in criminal activities.
After the meeting, the minister also said that they were going to take necessary measures to stop criminal activities committed using mobile phones, especially by Myanmar-built sets and connections.
He said that they were encouraging the Rohingyas to use Bangladeshi SIM cards.
The home minister disclosed that the barbwire fencing by the Armed Forces Division around the Rohingya camps was about to be completed while the construction of patrol paths was also underway.
'Watchtowers are being built. We are taking measures to keep them under monitoring round the clock,' he said.
The minister also said that the government was preparing a standard operating procedure for family planning in the camps, adding that the health and family welfare ministry and the Islamic Foundation are working to this end.
Imams, volunteers and NGOs are also sensitising people to the need for family planning, he said.
The minister said that the meeting decided on the compulsory registration of fishing boats operating in the River Naf.
The meeting decided to expand the capacity of the Fire Service and Civil Defence in the camps as the Rohingyas were experiencing repeated incidents of fire.
Noting that Bangladesh has been going through an unpleasant situation since it has sheltered displaced people from Myanmar, he said that Rohingya repatriation could not be started due to their unwillingness.
Asked, he said that diplomatic efforts were underway to solve the crisis.
The meeting also decided to increase the frequency of sea-truck movements between Cox's Bazar and the Bhashanchar island where more than 30,000 Rohingyas are currently living.
The home minister further said that they were working to speed up the trials of the cases against Rohingyas pending with Bangladeshi courts.
Nur Khan Liton, the executive director of Ain o Salish Kendra, said that the government should take necessary steps without scaring the Rohingya people.
Following a military crackdown on Rohingyas on August 25, 2017, more than 7,00,000 Rohingya women, men and children fled Myanmar for Bangladesh, joining hundreds of thousands of other Rohingyas who had sought and found refuge in the country in previous years.