Shoot-at-sight order issued as Manipur violence flares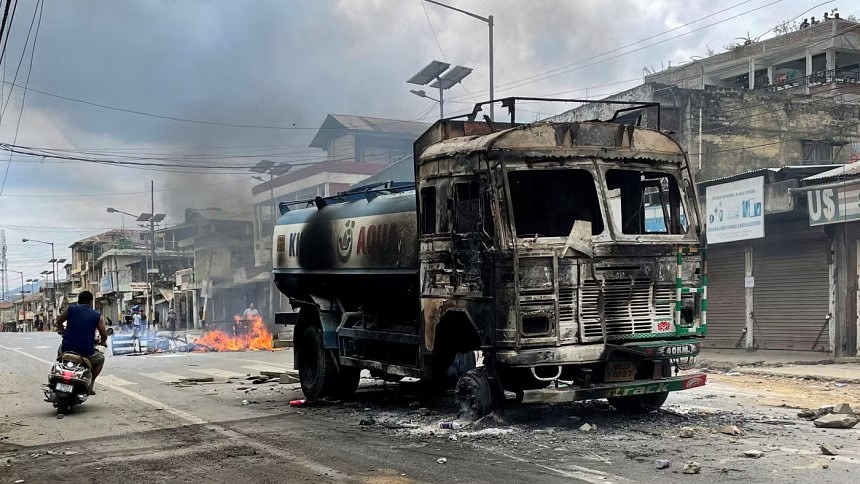 NEWS DESK
Authorities in north eastern Indian state of Manipur today issued shoot-at-sight order in "extreme cases" to contain spiralling violence in the state between tribals and majority non-tribal Meitei community which has led to the displacement of more than 9,000 people from their villages.
The order issued on behalf of the Manipur Governor said 'shoot-at-sight' could be resorted to when the options of persuasion, warning and reasonable force "have been exhausted and the situation could not be controlled".
The notification signed by the Commissioner (Home) of the state government was issued under provisions of the criminal procedure code of 1973.
Manipur witnessed violent street protests over the Tribal Solidarity March organised by the All Tribal Student Union Manipur protesting the Scheduled Tribe status (under the constitution) demand of non-tribal Meiteis, which would help them quota preference in government jobs, admission in educational institutions and other social benefits.
The Army and paramilitary Assam Rifles were deployed to control the situation in north eastern Indian state of Manipur a day after street clashes broke out during an agitation by tribals, a defence spokesman said today.
Curfew was imposed in eight of the total of ten districts of Manipur and mobile internet services were suspended in the entire state for five days from Wednesday following violence during an agitation by tribals in protest against a move tod give special benefits to non-tribals, state officials said.
Violence erupted on Wednesday during 'Tribal Solidarity March' called by All Tribal Student Union Manipur (ATSUM) in Torbung area of Churachandpur district to protest the demand of non-tribal Meiteis, who dominate the Imphal Valley, for Scheduled Tribe (ST) status.
Thousands of agitators took part in the rally during which violence between tribals and non-tribals was reported in Torbung area, a senior police officer said.
Police fired several rounds of tear gas shells to control the mob, the officer said adding the situation remained tense.
So far, 9,000 people were rescued by the forces from the violence-hit areas and given shelter, a Defence spokesperson said, adding that more people are being shifted to safer places.
Non-tribal Meiteis account for 53 per cent of the state's population. Tribals account for nearly about 40 per cent of the state's population.
The Manipur High Court had recently asked the state government last month to send a recommendation to the Centre within four weeks on the demand for ST status by the Metei community.
During the march in Torbung area of Churachandpur district, an armed mob allegedly attacked people of the Meitei community, leading to retaliatory attacks in the valley districts, which escalated the violence throughout the state, according to police.
Many shops and houses were vandalised, and gutted in arson that lasted for more than three hours in Torbung, they said.
Urging people to maintain peace, Chief Minister N Biren Singh said, "Precious lives have been lost, besides damage of properties, which is very unfortunate.".
However, details of the deaths were not immediately available.
In Imphal valley, houses of Kuki tribals were ransacked in several areas, forcing them to flee, police said. Over 500 residents of the Kuki-dominated Langol area in Imphal West fled their homes, police said.
Some places of worship were also set on fire in the Imphal valley last night, they said.
Around 1,000 Meiteis of tribal-dominated Churachandpur district fled to various areas of Bishnupur district, including Kwakta and Moirang, they said. Over twenty houses were also burnt in Motbung area of Kangpokpi district, police said.
Violence was also reported from Moreh near the Myanmar border in Tengnoupal district.