The Rohingya trailer released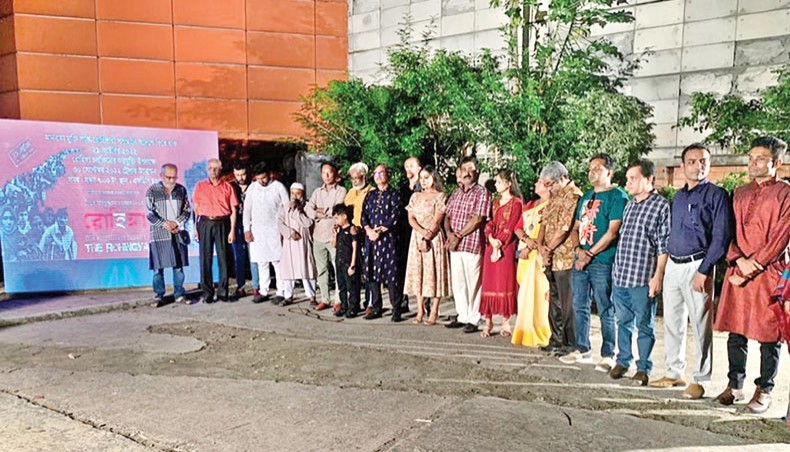 NEWS DESK
The trailer of National Film Award-winning filmmaker Syed Wahiduzzaman Diamond directed upcoming feature film The Rohingya was released on Friday (Sept 30, 2022).
The trailer launching ceremony of The Rohingya has held on Bangladesh Film Development Corporation premises on Friday evening.
The film's director, cast and crew members were present at the event.
Syed Wahiduzzaman Diamond said, 'I have been planning to make this film for nearly a decade. We have created a fiction based on true incidents. The film's cast and crew members have worked really hard to make the film a reality.'
The film's cast, namely Tasleem Shakur, Afsar, Siam, Saddam, Mithu, Shafiul Alam Bablu, Nahar and Arshi, among others, were present at the event.
Tasleem Shakur said, 'All of us worked really hard to complete the film. I hope that the audience will love our performance.'
Nahar said, 'We had to face many hardships and overcome different challenges while filming The Rohingya. I hope that the audience will love the film.'
The Rohingya aims to give the viewers a glimpse into the plight of the displaced Rohingya people, who fled violence and persecution in Myanmar in 2017 and 2018.
The trailer, which was released on the YouTube channel of Syed Wahiduzzaman Diamond, shows thousands of Rohingya people coming to Bangladesh carrying their last belongings, the Myanmar army attacking Rohingya villages and so on.
The Rohingya is scheduled to hit local cinemas on October 21.