US delegation 'satisfied' over Rohingya camp management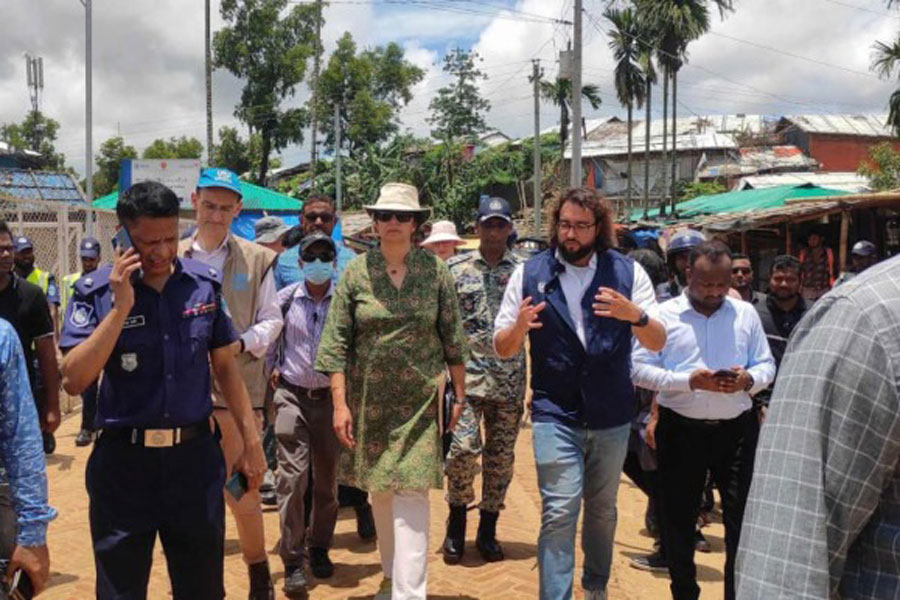 NEWS  DESK
The 10-member delegation of the US State Department led by US Under Secretary for Civilian Security, Democracy, and Human Rights Uzra Zeya has expressed satisfaction over the overall management of the Rohingya camps in Cox's Bazar, according to Refugee Relief and Repatriation Commissioner Md Mizanur Rahman.
The delegation thanked the Bangladesh government and Prime Minister Sheikh Hasina over the situation, he told reporters on Wednesday evening after the delegation's day-long visit to the Rohingya camps in Ukhiya and Teknaf.
During the visit, the delegation talked to people from the Rohingya communities and officials of the Office of the Refugee Relief and Repatriation Commissioner in Cox's Bazar.
The delegation visited the nutrition centre and cultural memory centre and interacted with the officials of almost all international organisations working in Cox's Bazar.
However, Uzra Zeya did not make any comment to the press during the visit. The delegation left for Dhaka at 6:30pm.
Mizanur Rahman said the Bangladesh officials had discussed various topics with the delegation regarding the Rohingya issue.
"Since 2017, many of the international, domestic and foreign agencies working here have received support from the US government. The country has provided important support, especially in food aid provided by the World Food Programme. These issues were focused on in the meeting with the delegation," he said.
He said that the US delegation was informed that the WFO has continued to reduce food aid for the Rohingyas. The delegation conveyed the assurance of providing such aid.
The US delegation also includes US Ambassador to Dhaka Peter Haas and Assistant Secretary, Bureau of South and Central Asian Affairs, Donald Lu.
Rohingyas demand speedy repatriation
Meanwhile, during their interaction with the US delegation, the Rohingyas expressed their urgent demand to be repatriated to their homeland Myanmar.
They emphasised that living in the camps felt like being held captive and requested the United States to take decisive action in facilitating their return home.
They urged the delegation to exert political pressure on Myanmar to expedite the repatriation process.
Mohammad Zubair, chairman of the Arakan Rohingya Society for Peace and Human Rights, said that the society had submitted a letter to the delegation outlining its demands, which prominently featured the need for the speedy repatriation of the Rohingyas.
In addition to discussing repatriation, the delegation also inquired about various aspects of life in the camps, including the education system, food availability, and security measures.
Mohammad Ismail, a resident of Rohingya camp-11, expressed the view that the delegation had shown interest in understanding the education system within the camp.