Window for Gazans to flee closes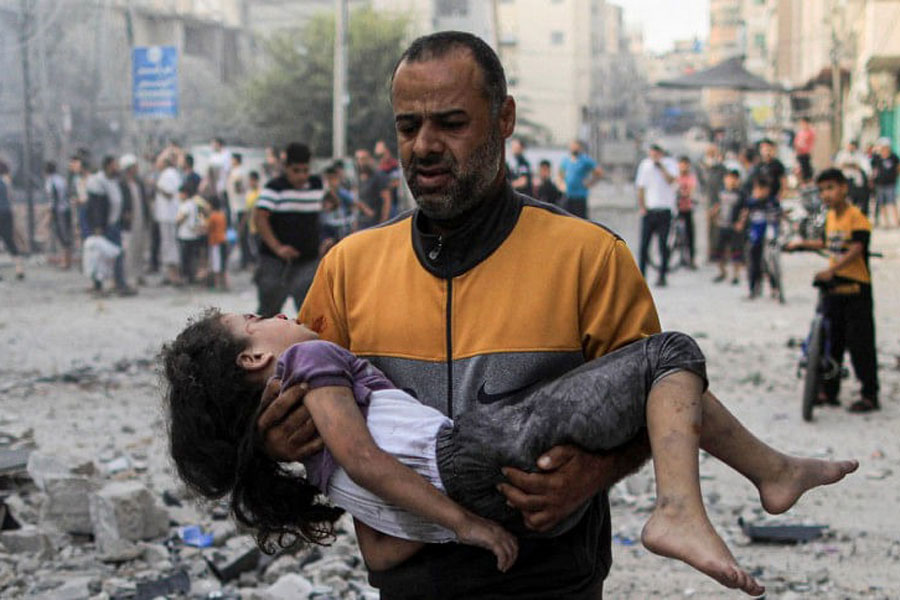 Israel pummelled northern Gaza with fresh air strikes on Saturday, one week on from the deadliest attack in its history, as a window for Gazans to flee closed before an expected ground offensive against Hamas militants, global news agencies report.
On Friday, the Israeli military gave 24 hours to residents of north Gaza to flee to the south near Egypt's border.
AFP reporters near the southern Israeli city of Sderot saw troops fire at the densely populated enclave, sending huge plumes of black smoke into the sky.
Israeli Prime Minister Benjamin Netanyahu, wearing a flak jacket, meanwhile visited troops on the border frontline, raising expectations of an imminent invasion.
"Are you ready for what is coming? More is coming," he is heard telling several soldiers on a video released by his office.
The US government also advised its citizens in Gaza to move south toward the Rafah border crossing with Egypt.
There has been no let-up in Israel's response to the Islamist fighters' dawn raid, which saw them break through the heavily fortified border and gun down, stab and burn to death more than 1,300 people.
On the Gazan side, health officials said more than 2,200 people, including 724 children, had been killed. As on the Israeli side, most of them were civilians.
Meanwhile, clashes in the occupied West Bank have killed 53 Palestinians in the past week.
Panic and fear reigned in the rubble-strewn streets of Gaza where hospitals have been overwhelmed with bloodied casualties and morgues have struggled to cope.
But with food, water, fuel and medical supplies running low because of an Israeli blockade, aid agencies are warning of an impending humanitarian crisis.
On the diplomatic front, Saudi Arabia pressed for an "immediate ceasefire", while the United States called on China to use its regional influence to push for calm.
UN Secretary-General Antonio Guterres described the situation in Gaza as "a dangerous new low".
"Even wars have rules," he added, as Israel faced accusations of collectively punishing Gazans for Hamas's action last week.
"Civilians must be protected and also never used as shields," Guterres said.
Israel, which has likened last week's attacks to those on September 11, 2001 in the United States, has fired thousands of missiles at northern Gaza.
One air strike killed Ali Qadi, described as "a company commander of the Hamas 'Nukhba' commando force" involved in the unprecedented attack, the army said.
"Localised" raids have also taken place, as Israeli troops encircle the Gaza Strip, said army spokesman Jonathan Conricus.
"We will likely evolve into additional significant combat operations," he added. "When we do so, remember how this started… All of this is Hamas-made."
Some 1.1 million people — nearly half the population of 2.4 million — live in the north of Gaza, and aid agencies have said forcing them to move is an impossibility as the war rages.
Exiled Hamas chief Ismail Haniyeh on Saturday accused Israel of committing "war crimes" in Gaza and blocking the supply of much-needed aid.
In a letter to United Nations Secretary-General Antonio Guterres, posted on the militant group's website, he called Israel's cutting off of electricity, water and fuel supplies "barbaric".
But he ruled out any "displacement" of Gazans, including to Egypt.
Israel has vowed to destroy Hamas, which several Western governments, including the United States have proscribed as a terrorist organisation, and likened to the Islamic State group.
But it maintains that ordinary Palestinians are not their target.
Israeli military spokesman Richard Hecht urged civilians in northern Gaza not to delay in getting out, with a "window" for safe passage between 10:00am and 4:00pm.
He did not say how many days the window would remain open.
Gazans, who cannot leave the enclave as it is blockaded by both Israel and Egypt, have packed what belongings they can into bags and suitcases, to trudge through the rubble-strewn streets.
A stream of cars, trucks, three-wheeled vehicles and donkey-drawn carts joined the frantic mass movement south, all loaded with families and their belongings, mattresses, bedding and bags strapped onto the roofs of packed vehicles.
Roads in the 40-kilometre (25-mile) long territory were jammed. But putting distance between people and the bombings had not dispelled fear.
"We wake up to the killing and death under the bombs," said Mohamed Abu Ali, who lives in Gaza.
"We don't know where to go, where is safe. We have no food, water or electricity," he added.
International aid agencies, including the UN and Red Cross, plus several foreign diplomats have voiced concern about the feasibility of the evacuation plan.
"We fear an unprecedented humanitarian catastrophe," said Ivan Karakashian, of the Norwegian Refugee Council.
Spanish Prime Minister Pedro Sanchez on Saturday warned Israel that international law does not permit the kind of mass evacuation demanded by Israel in the Gaza Strip.
According to the UN, more than 1,300 buildings in Gaza have been destroyed, while local hospitals and their exhausted staff have become overwhelmed with growing numbers of dead and injured.
"What does the world want from us?" asked one Palestinian resident, Mohamed Khaled, 43. "I am a refugee in Gaza and they want to displace me yet again?"
A potential Israeli ground invasion has also increased fears for the safety of the 150 hostages, including foreigners, that Israel said Hamas seized during its deadly rampage.
Hamas has threatened to kill the hostages one by one for every unannounced Israeli air strike.
A total of 22 have already been killed in bombardments, the militant group said, without elaborating.
Meanwhile, Egypt and Israel have agreed to let US citizens leave the Gaza Strip through the Rafah crossing, a US official accompanying Secretary of State Antony Blinken on a regional tour told reporters.
But it was not immediately clear when the plan would be implemented.
The Hamas attack and the war it sparked — Gaza's fifth in 15 years — have upended Middle Eastern politics, prompting fears that the violence will spread across the volatile region.
Angry protests condemning Israel and supporting the Palestinians in Gaza took place across the Arab world on Friday.
More took place in New York on Friday night, and London on Saturday, where protesters waved Palestinian flags and placards with slogans such as "Freedom for Palestine" and "End the massacre".
Israel faces the threat of a separate confrontation with Lebanon to the north, and artillery exchanges have taken place with the Iran-backed Hezbollah group in recent days.
On Friday, a Reuters video journalist was killed and six other reporters, from AFP, Reuters and Al-Jazeera, were wounded in shelling that Lebanon blamed on Israeli forces.
Two Lebanese civilians were killed in Israeli shelling of a southern village on Saturday, its mayor told AFP.
Meanwhile, EU foreign policy chief Josep Borrell said a plan to evacuate more than one million people in a single day was "utterly impossible to implement".
Calls for a humanitarian corridor or an escape route for Palestinians from Gaza have drawn a blunt reaction from Arab neighbours.
Egypt, the only Arab state to share a border with Gaza, and Jordan, which is next to the Israeli-occupied West Bank, and Turkey have warned against Palestinians being forced off their land.
It reflects deep Arab fears that Israel's latest war with Hamas in Gaza could spark a new wave of permanent displacement from the land where Palestinians want to build a future state.