Bangladeshi injured in mine blast along Myanmar border in Bandarban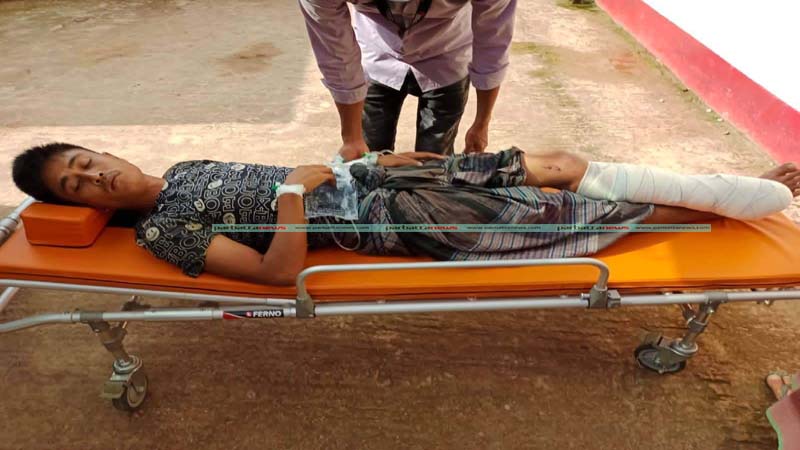 GHUMDHUM CORRESPONDENT, NAIKHONGCHHARI, BANDARBAN
A tribal Bangladeshi was seriously injured in a mine explosion along the Myanmar border in Bangladesh's Bandarban.
The incident took place at the Zero Line near Pillar No 35 of the Tumbru border in the hill district's Naikhongchhari upazila around 1:30 pm on Friday (Sept 16, 2022).
The victim has been identified as Anyathaine's Tanchangya, 22, son of Ankythain Tanchangya of Headman Para in Naikhongchhari's Tumbru.
The victim had his left leg blown away in the explosion, witnesses said.
He has been admitted to Cox's Bazar Sadar Hospital.
According to police and local sources, Anyathaine and another youth went to the barbed wire fence area of the Zero Line in the afternoon.
A mine exploded, blowing away Anyathaine's left leg, they said, adding that locals rescued and hospitalised him.
Anyathaine was first admitted to Kutupalong MSF Hospital and then to Cox's Bazar Sadar Hospital, they said.
According to them, a cow was also killed in the mine blast in the area.
However, the police and local sources said it is not yet known why the two youths went to the Zero Line despite the BGB ban.
He also said that if anybody entered Myanmar in violation of the country's laws without paying heed to the ban of the administration, they might face a fate like the tribal youth injured in the mine blast.
Tribal youth Anyathaine would not have faced such a fate had he paid heed to what the administration instructed amid the ongoing fighting between Myanmar security forces and the Arakan Army in Rakhine State, near the border with Bangladesh.
According to Naikhongchhari Upazila Nirbahi Officer Salma Ferdous, who confirmed the incident, security forces have increased patrolling along the border, and locals have been prohibited from entering border areas. Security forces and locals believe the mines were planted on the border by the Myanmar army or the separatist Arakan Army.
Tensions have been building on the Myanmar border at Naikhongchhari in Bandarban for more than a month, following a clash between Myanmar security forces and the separatist Arakan Army.
Several mortar shells and bullets have landed in Bangladesh as a result of bloody fighting between Myanmar security forces and the Arakan Army.
Bangladesh has beefed up security along its border with Myanmar.