Ctg depot fire: Love, respect pour in for firemen Mithu, Nipon killed in line of duty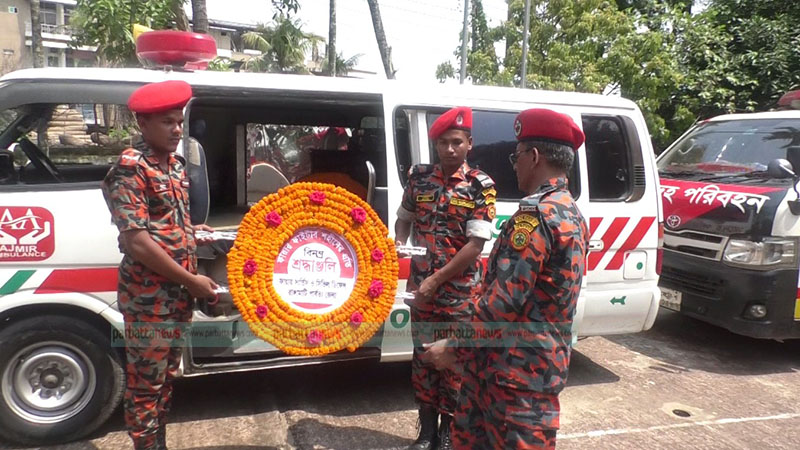 STAFF CORRESPONDENT, RANGAMATI
Last rites of firefighters Mithu Dewan and Nipon Chakma, who lost their lives in an inferno at a container depot in Chattogram's Sitakunda, have been performed in their home district – Rangamati.
Prior to this, they were given a guard of honour by the fire service.
Mithu and Nipon's funerals were held on Monday noon, June 06, 2022 – respectively at the Barhmantila crematorium and at the Asambasti cremation ground.
Earlier, their bodies were brought from Chittagong Medical College Hospital at 8 am. Their bodies were first taken to their respective homes.
Mithu, 50, is a native of Rangamati's West Tribal area, while Nipon is from Mantripara in the city's College Gate area.
The cries of their near and dear ones filled the air after their bodies reached their homes in the hill district in an ambulance.
Families, friends, colleagues and neighbours bid farewell to the firefighters with tears in their eyes.
Deputy Commissioner Md Mizanur Rahman and members of the fire service honoured the two firefighters with flowers at the fire service office premises of the district.
Nipon and Mithu's families were each given Tk 20,000 on behalf of the fire service and Tk 10,000 on behalf of the district administration.
Around 12 noon, the remains of the two were then taken to the crematoriums. Mithu and Nipon were cremated at Brahmantila crematorium and Asambasti crematorium respectively.
On Monday, the district administration and the health authorities in Chattogram revised the death toll in the inferno, down to 41 from 49.
Some bodies had been mistakenly counted twice, pushing the death toll to 49, said Chattogram Deputy Commissioner Md Mominur Rahman.
Rafiqul Islam, assistant director of the Fire Service and Civil Defense, said, "Had it been known that there were flammable substances in the container depot, it would not have caused so many deaths."