Firms in Europe, US helping Myanmar manufacture arms, report says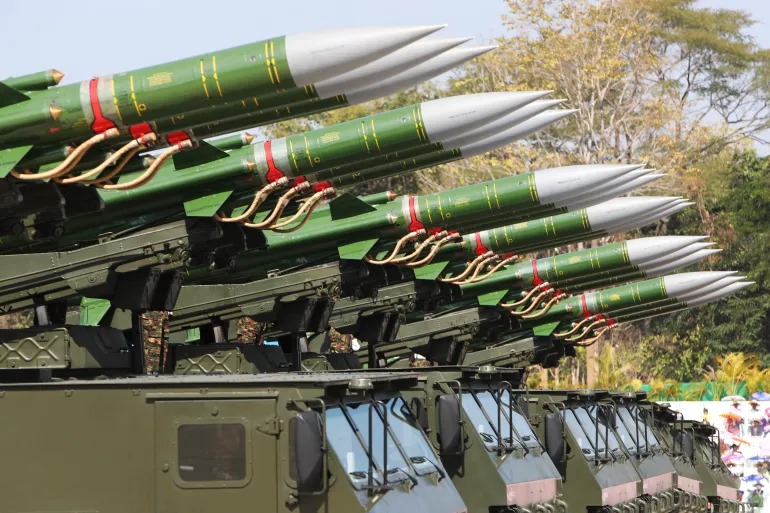 Companies in the United States, Europe and Asia have been helping Myanmar's military manufacture weapons used in human rights abuses, according to three former United Nations experts, Al Jazeera reports.
Companies from 13 countries – including France, Germany, China, India, Russia, Singapore and the United States – have been providing supplies that are "critical" to the production of weapons in Myanmar, the Special Advisory Council on Myanmar (SAC-M) said in a report released on Monday.
This support includes licenses, raw materials, software, parts and components, the experts said.
As a result, the Myanmar military, which has launched a bloody crackdown on its opposition after seizing power in a coup in February 2021, has become largely self-sufficient in manufacturing a range of weapons, they said. Produced in factories known as KaPaSa and run by the military's Directorate of Defence Industries (DDI), these weapons include guns, ammunition and landmines and are primarily being used to quash resistance to the coup, the SAC-M said.
"Foreign companies are enabling the Myanmar military – one of the world's worst human rights abusers – to produce many of the weapons it uses to commit daily atrocities against the Myanmar people," the SAC-M's Yanghee Lee, a former UN Special Rapporteur on the situation of human rights in Myanmar, said in a statement.
"Foreign companies and their home states have moral and legal responsibilities to ensure their products are not facilitating human rights violations against civilians in Myanmar," Lee said. "Failing to do so makes them complicit in the Myanmar military's barbaric crimes."
The report (PDF) drew on a range of sources, including interviews with people associated with the Myanmar military as well as leaked budget documents from the Ministry of Defence.
It found that high precision machines manufactured by companies based in Austria, Germany, Japan, Taiwan and the US are currently being used by the Myanmar military at its weapons factories. These automated tools have turning, milling and grinding functions and play a critical role in the manufacturing of weapons, the report said.
Software to operate these machines is being provided by companies based in France, Israel and Germany, it said.
Singapore, meanwhile, functions as a strategic transit point for potentially significant volumes of items, including certain raw materials, that feed the Myanmar military's weapons production, and Taiwan is believed to serve as an important route for the military's purchase of the high precision machines, the report said.
The military also regularly sends these machines from KaPaSa factories to Taiwan, where they are serviced by technicians associated with the European manufacturers of the machines, after which they are shipped back to Myanmar, it alleged.
Companies in China, such as the state-owned China North Industries Group Corporation Limited, are key to the import of raw materials used for arms production while firms in India are helping with the imports of parts and components such as optical sights fitted to small arms such as sniper rifles, the report found.
"States must investigate and, if necessary, initiate administrative or legal proceedings against companies whose products we have identified as enabling the DDI to produce weapons used by the Myanmar military in its indiscriminate attacks on civilians," the SAC-M's Chris Sidoti, a former member of the UN Independent international fact-finding mission on Myanmar, said.
"Foreign companies that profit from the suffering of the Myanmar people must be held accountable," he said.
The report also detailed instances of the military's use of locally made weapons against Myanmar's people, such as crackdowns on peaceful protests against the coup, and warned that companies involved in the provision or supply of essential products to the DDI may be found complicit in these and other atrocities committed by the country's security forces.
"The Myanmar military has built a robust arms manufacturing industry that makes it largely self-sufficient in its ability to produce the small arms, light weapons and ammunition it uses to brutally suppress the Myanmar people," said Marzuki Darusman of the SAC-M.
"However, the DDI's reliance on external supplies to sustain its weapon production means it is still vulnerable to external pressure," Darusman, a former chair of the UN independent international fact-finding mission on Myanmar, said.
"UN member states should do everything in their power to restrict the Myanmar military's access to those supplies to protect the Myanmar people, including by adopting targeted sanctions against the KaPaSa, its leadership and its network of brokers."