Govt will do everything to stop bloodshed in CHT: Home Minister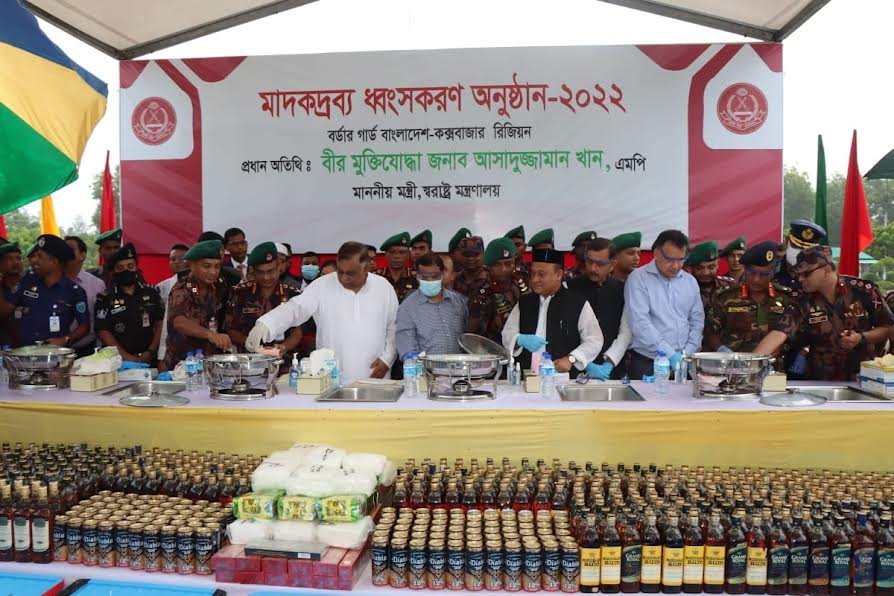 NEWS DESK
Home Minister Asaduzzaman Khan Kamal has warned of taking tougher action against those who are involved in drug trading.
Referring to Prime Minister Sheikh Hasina's Zero Tolerance Policy against drugs, he said all challenges will be dealt to stop drug trading in the country.
The home minister made the comments while speaking as the chief guest at a drug eradication programme at the BGB regional headquarters in Ramu upazila of Cox's Bazar this morning, Thursday, May 26.
He said, "80 percent of drug addicts in our country are young. Most of these young people are involved in various crimes". The government is implementing the zero tolerance policy against drugs to save the young generations of the country from harmful effects of drug.
"We have 283 kilometers of inaccessible border with Myanmar," he said. For this, the BGB has been transformed into a three-dimensional force by increasing its capacity. The BGB is working more responsibly both on land and in water. If necessary, BGB will be strengthened with the latest technology, he said.
Md. Akhter Hossain, Senior Secretary, Department of Public Security, Ministry of Home Affairs, who was the special guest at the programme said the BGB has been working relentlessly since the election and in times of disaster in the country. Prime Minister Sheikh Hasina has instructed authorities concerned to further modernize the BGB.
Director General of Border Guard Bangladesh (BGB) Major General Shakil Ahmed said that social movement and universal resistance should be built against drug abuse and the BGB is ready to make maximum sacrifice to curb drug trafficking at the border.
He thanked Prime Minister Sheikh Hasina for turning the BGB into a world-class modern three-dimensional and time-befitting border force.
Members of Parliament (MPs) Saimum Sarwar Kamal, Ashek Ullah Rafiq, Kaniz Fatema Ahmed, GOC of 10 Infantry Division of the Army Md. Fakhrul Ahsan, Relief and Repatriation Commissioner Rezwan Hayat, BGB Cox's Bazar Regional Commander Brigadier General Nazam-us-Sakib, Deputy Commissioner (DC) Md. Mamunur Rashid, government officials, among others, were present.
A total of 90 lakh 80 thousand pieces of yaba tablets, 23 kg crystal meth ice, 6,767 cans of beer, 1,339 bottles of wine, 154 bottles of Phensidyl, 206 liters of Bengali liquor, 17 kg of Ganja, 48,000 pieces of various tablets and 10,984 packets of cigarettes were destroyed at the programme.
The BGB sources said the estimated market value of the destroyed drugs is Taka 395.76 crore.