Myanmar delegation returns home after verifying info of about 500 Rohingyas in Cox's Bazar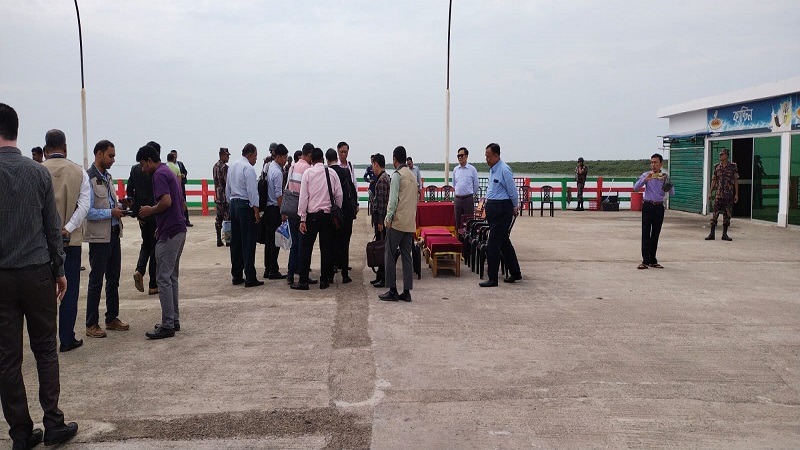 NEWS DESK
A delegation from Myanmar has returned home after verifying the information of about 500 Rohingyas who are in the process of repatriation in the refugee camps of Cox's Bazar.
The delegation left Bangladesh on a trawler through the Teknaf-Myanmar transit jetty at Jaliapara of Teknaf at around 10am on Wednesday (March 22).
The delegation comprising 17 members arrived in Bangladesh on March 15.
Aung Myew, director of Myanmar foreign ministry's regional district Maungdu, led the delegation team.
Additional Refugee Relief and Repatriation Commissioner (RRRC) Khalid Hossain said that the delegation returned to Myanmar after taking interviewing about 500 Rohingya for seven days. They accomplished the work they came for. The delegation will inform their authorities about this.
According to the RRRC office, 40 Rohingyas from 16 families of Jadimura and Leda camps in Teknaf met the delegation on Tuesday. Before this, 86 people from 21 families were interviewed on Monday, 70 people from 26 families Sunday, 60 people from 23 families Saturday, 70 people from 16 families Friday, 70 people from 23 families Thursday and 90 people from 23 families were interviewed last Wednesday and their information was verified.
In total, about 500 Rohingyas from 147 families have been verified in the last seven days.
Bajlul Rahman, a leader of Jadimura Rohingya camp in Teknaf, said: "The Rohingyas were interviewed about the same things."
"The questions included which village in Rakhine the interview candidate's house was, who was the member, chairman, who was the leader of the society, how many children were there, and how many children were born after coming to Bangladesh."
He said: "Rohingyas do not want to stay here (Bangladesh) anymore. We want to go back to our country. But we want to go like this so that we do not have to return from Myanmar. Repatriation is not being discussed now. We will present the demands when discussed. We have raised those issues before."
Earlier, the Bangladesh government sent a list of 862,000 Rohingyas for repatriation to Myanmar. Out of it, 70,000 were selected for repatriation.
However, efforts to repatriate Rohingya refugees to Myanmar ended in smoke as the Rohingyas refused to go back to Myanmar without the guarantee of a safe, secure, and dignified return to Rakhine.
More than a million Rohingyas now live in camps in Bangladesh – mostly in Cox's Bazar.
Over 30, 000 Rohingyas have been relocated to Bhasan Char.