Pakistan: Khan gov't's key ally quits ahead of vote to oust PM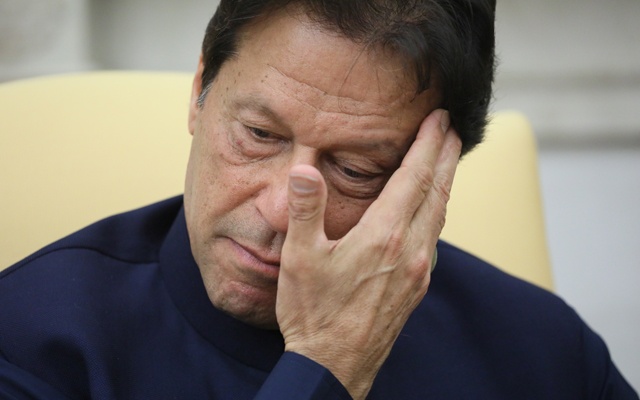 News Desk:
Pressure is growing on Pakistan's embattled Prime Minister Imran Khan to step down after a crucial ally switched to the opposition ahead of a no-confidence vote in parliament, Al Jazeera reports.
The Muttahida Qaumi Movement Pakistan (MQM-P) party, a major political force in Sindh province, on Wednesday announced it is leaving the ruling Pakistan Tehreek-e-Insaf (PTI)-led coalition government.
The move came following drawn-out negotiations between MQM-P and opposition leaders since Tuesday night.
"The decision to part ways with the government has been endorsed by the party's coordination committee," senior MQM-P leader Aminul Haq, who is a federal minister in Khan's government, told reporters at a news conference in Islamabad on Wednesday.
"We have submitted our resignation from the federal cabinet," he said.
Khan, 69, a former captain of Pakistan's national cricket team, came into power in 2018. With MQM-P's exit, the ruling alliance is now left with 164 votes.
Khan needs 172 votes in the 342-seat National Assembly to defeat the no-confidence motion moved by the opposition, whose numbers have swelled to 177 with nearly two dozen PTI legislators deserting Khan.
No Pakistani prime minister has ever completed his term in the country's 75-year history, marred by frequent coups by the country's powerful military.
"PM Khan will fight till the last ball," Information Minister Fawad Chaudhry posted on Twitter, amid speculations that Khan might announce his resignation in the address.
Pakistan PM Khan alleges 'foreign-funded conspiracy' to oust him
The political turmoil started in Pakistan earlier this month after the opposition announced it would bring a no-confidence motion against Khan's government amid accusations that he has mismanaged the nation's economy.
As Khan faced the biggest challenge of his political career, he blamed a foreign-funded conspiracy for trying to topple him.
In an address to his supporters at a rally in Islamabad on Sunday, Khan accused former PM Nawaz Sharif and ex-president Asif Ali Zardari of hatching a conspiracy funded and supported by the "foreign forces".
Earlier on Wednesday, Khan said he will share with media details of a "letter" he had brandished at Sunday's rally, purportedly containing evidence of the foreign conspiracy. However, the decision was rescinded a few hours later.
At an event in the capital on Wednesday, Khan said the current political crisis started due to his government's "independent foreign policy" that used to be earlier controlled through "telephone calls".
But experts said Khan's claims of having a letter as proof of some foreign conspiracy does not hold water.
"There is no precedent that a country would have issued written threats to others," author and political analyst Zahid Hussain told Al Jazeera. "It seems that the threat (letter) is being used for political gains and has no reality."
Another political analyst, Sohail Warraich, thinks Khan is trying to build a narrative for the next election with the letter to tell the masses he was removed through an international conspiracy.
Warriach said Khan has lost the majority in parliament after MQM-P's decision. "It is game over for the PM," he told Al Jazeera.
Khan is also believed to have lost the support of the military over the choice of a new spy chief, a charge both Khan and the military deny.
The military's backing had been a stabilising factor for Khan's administration. However, opposition leaders claim the military establishment is "neutral" in the current political crisis.
But there are still many in Pakistan who believe otherwise. "The neutrality has also helped the opposition in a way," Hussain said.