Rohingya man caught trying to swim across border from Myanmar with drugs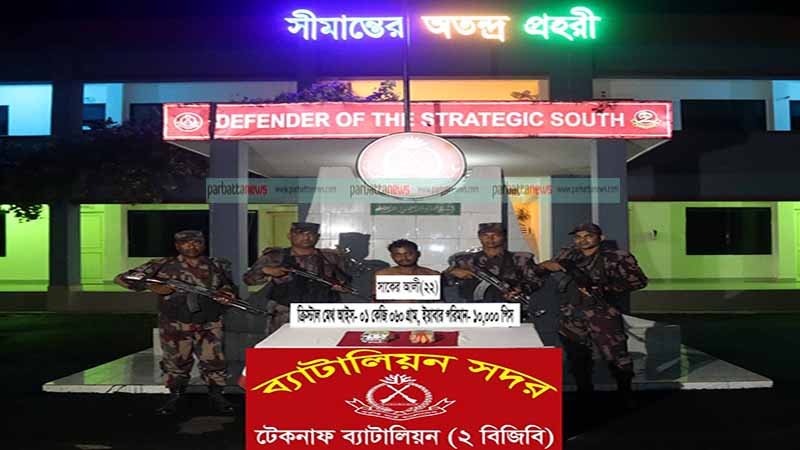 TEKNAF CORRESPONDENT
Border Guard Bangladesh or BGB troopers have arrested a Rohingya man in possession of 60 grams of crystal meth and 10,000 pieces of yaba tablets during a raid in the Naf River in Cox's Bazar's Teknaf upazila.
The arrestee has been identified as Md Saker Ali, 22, son of the late Kalu Mia, a Myanmar national taking refuge in Teknaf's Mochni Camp B-Block No. 25.
BGB sources said they arrested him along with the drugs worth Tk 56 million during the raid carried out in the early hours of Monday (May 9) in the Omar Khal area of the Naf.
According to Teknaf Battalion (2 BGB) sources, acting on a tip-off that a large consignment of drugs were to be smuggled from Myanmar to Bangladesh through Omar Khal area about 400 yards northeast of Teknaf Damdamiya BOP on Monday night, two special patrol teams from BGB Teknaf Battalion (2 BGB) Sadar and Damdamia BOP were divided into several subteams and took up strategic position in Keora Bagan in the area. Soon after, they spotted a man cross the zero point from Myanmar and start swimming across the Naf towards Bangladesh. He was then chased and arrested by a BGB sub-patrol team, which was already in a strategic position from the east.
The BGB conducted a body search and found two packets hidden in a towel wrapped around him. One of the packets had 60 grams of crystal meth, while the other 10,000 pieces of yaba worth around Tk 56 million.
BGB Teknaf Battalion (2 BGB) Commander Lieutenant Colonel Sheikh Khalid Mohammad Iftekhar said they have handed over Sarkar to Teknaf Model Police Station.
A case has been started against him for illegal possession and trafficking of drugs.