The Ten Minute Havoc: Kutubdia ripped apart by cyclone Hamoon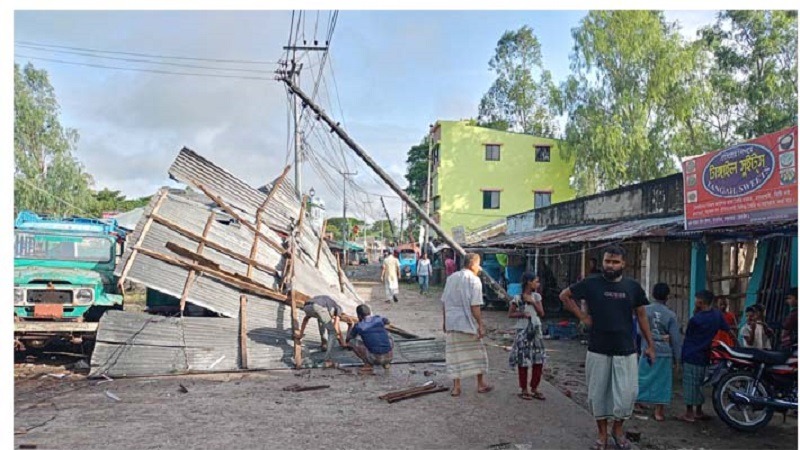 KUTUBDIA CORRESPONDENT, COX'S BAZAR
On the evening of October 24, an otherwise calm Kutubdia Island was taken by storm — quite literally. What started as a mild drizzle and a light wind under the looming influence of Cyclone Hamoon swiftly transformed into a powerful tempest by 9:30 p.m. Shops shuttered, people scurried for shelter, and a hush fell over the bustling upazila headquarters, only to be interrupted by the whistling wind.
The local upazila administration, sensing the urgency, had previously convened an emergency meeting and embarked on a campaign, nudging the inhabitants towards the safety of storm shelters. But nothing could have prepared them for what was to come.
In a mere span of 10 to 15 minutes, Cyclone Hamoon unleashed its fury. Reports started pouring in from every nook and corner of the upazila, detailing the destruction: houses, shops, trees—all collapsing under the ruthless force of the storm. The once-bustling Azam Road stood barricaded by at least 10,000 uprooted trees.
The aftermath was chaotic. Electricity snapped in areas where trees tumbled onto power lines. Mobile and internet services, the lifelines of modern communication, went silent. Around 30 individuals found themselves at the mercy of the cyclone's wrath, with falling trees and collapsing walls accounting for their injuries. Among the victims, two young men, Raju and Aziz, suffered injuries when a wall pinned them down in Chowdhury Para. The hospital's emergency wing was in a flurry of activity, admitting and treating those affected.
Shopkeepers of Azam Road's Center area could only watch in horror as the winds dismantled seven tin shops. Similarly, six shops at Battali station were obliterated. Dhurung Bazar's market wasn't spared either, with Tangail Sweets and three other establishments, including a pharmacy, bearing the brunt.
The North Dhurung UP Chairman, Abdul Halim Sikder, painted a grim picture of the extent of the damage, with mud-built houses and trees being the primary casualties. Unexpected rainfall further led to several fish ponds overflowing, resulting in loss of stock.
Maulana Mujeeb Ullah, the Director of Satruddin Talimul Quran Madrasah located in the Dhurung Jetty Ghat area, lamented the loss of the madrasa which was completely destroyed by the storm, estimating damages upwards of one and a half lakh rupees. Boat owners, including Ismail Badshah, Abdul Aziz, and Nazir Ahmad, mourned the damage to their salt trawlers, with three vessels anchored closely being split in two.
The damage assessment is ongoing. Baraghop UP Chairman, Abul Kalam, remarked on the extent of destruction to both dwellings and flora. An evaluation team, including Upazila Nirbahi Officer Dipankar Tanchanga, has been touring the affected zones since Wednesday morning.
Early reports suggest that over 550 mud-build houses were obliterated, and more than 3,000 sustained partial damage, Project Officer Ziaur Rahman said.