35 Bawm families return home in 2 days with army assistance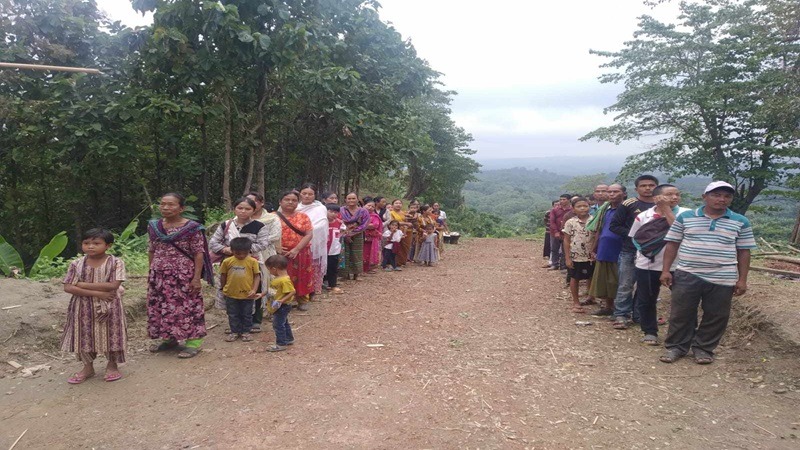 BAISHARI CORRESPONDENT
After nine long months, 100 members of 35 Bawm families returned to their homes in Bandarban over two days with the assistance of the army. The members of these families, who had fled due to fear of the KNF (Kuki-Chin National Front), began returning to their homes last Saturday and Sunday as the situation seemed to normalise.
Since April this year, residents of Paikshyong Para and Prata Para in Paindu Union had left their homes due to the oppression by KNF members, seeking shelter in the upazila headquarters, forests, and relatives' houses.
Melau Marma, chairman of Rowangchhari Sadar Union, informed that 40 families from Paikshyong Para had fled the area with their children. Recently, due to peace talks and the presence of security forces, these families have started to feel safe and have begun returning to their land.
Following the normalisation of the situation, Major General Md. Shahinur Haque of the 24th Infantry Division directed that various forms of assistance be provided to the returning families. This support includes essential items such as food, medicine, rice, lentils, oil, salt, flour, sugar, and dry food, sourced from the rations allocated for Baklai Army Camp and the 16 East Bengal regiment. With the gradual return to normalcy, families who had previously fled the surrounding areas are now beginning to return to their homes.
The security forces have assured all returning families of full support from the camps.
Khorshed Alam Chowdhury, the Rowangchhari Upazila Nirbahi Officer, stated that families who had sought refuge from KNF oppression had also received assistance from the upazila administration.
The returning residents shared that they had taken refuge in forests and relatives' homes for nine months due to fear of the KNF and felt like they had regained a new life by returning home.
They added that the security forces are providing them not just protection but also various forms of assistance including food and medical care, for which they are grateful.
Since October last year, the armed terrorist organisation KNF had been causing unrest in the hills, engaging in killings, kidnappings, extortion, and providing armed training to militants from the plains. This led to a deterioration in the law and order situation in Bandarban. In ensuring the safety of people, four members of the army have lost their lives in conflicts with the KNF. However, the army, considering the welfare of the general public and acting professionally, managed to take control of all their bases. Many KNF members have been killed or arrested with weapons.
The security forces believe that the situation in Bandarban is gradually returning to normal following meetings between the Peace Establishment Committee and the KNF. There is also talk of another face-to-face dialogue between the Peace Establishment Committee and the KNF in December.